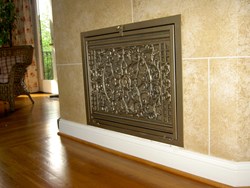 Her free home makeover will take 15 minutes, the time it takes to install a custom-designed hand-crafted Fancy Vents in your home.
Nashville, TN (PRWEB) October 29, 2013
Congratulations to Rachel of Hinesville, Georgia.
Rachel is the lucky winner of the "Give Your Home a Free Makeover - Win a Fancy Vent for Your Home" contest which concluded recently at http://www.fancyvents.com. "Rachel's filter size is 20 x 20 and she chose the beautiful Donici design," explained Cindy Moore co-owner of Fancy Vents. "Her free home makeover will take 15 minutes or less, the time it takes to install one of our custom-designed hand-crafted Fancy Vents in your home," said Cindy.
Fancy Vents' products are made with the consumer in mind, not only in design but in ease of installation. Any handy homeowner can install a decorative vent cover from Fancy Vents in just a few easy steps. Simply remove that old ugly cover, and replace with a new piece of art that's unique to your taste. Earl and Cindy call this the "15 minute remodel," since it will transform the look of a home in ways most wouldn't think possible.
Chances are most homeowners will realize at one point, the standard air return vent installed with the typical heating and air system does not match with a homes décor, plus it's boring and ugly. Fancy Vents offers a simple and easy solution to transform the boring into a beautiful custom crafted work of art. Fancy Vents custom, hand-crafted vent covers complement a homes décor without spoiling the functionality of the air return grille.
Fancy Vents is a company started by Tennessee-based husband and wife duo Earl Tatom and Cindy Moore. A shared vision and keen business sense has earned them wide recognition as the go-to source for decorative air vent covers. In just 15 minutes, homeowners can transform a room in a simple and affordable way. Cindy's designs, combined with Earl's craftsmanship, gives homeowners endless options of styles and size.
Be sure to visit FancyVents.com regularly to see all of the latest designs and new finishes. Recently added is the new "Marissa" design. The Marissa was featured in this year's Southern Living Idea House at Fontanel.