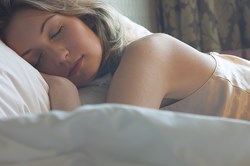 Insomnia contributes to diabetes, heart disease, and depression.
Cincinnati, OH (PRWEB) January 31, 2014
Psychologist, Dr. Susan Eppley, is offering a three week intensive to remedy insomnia and the inability to sleep through the night at Elemental Om Yoga & Meditation Studio in Cincinnati, Ohio.
Insomnia affects over three fourths of Americans. As a result, not only are work and home productivity lost, but many major illnesses including diabetes, heart disease, cancer, depression and even obesity are associated with inadequate sleep.
Dr. Eppley offers a holistic approach to remedy sleep . Her perspective is fresh going beyond short-term relief through prescription medicine and offering behavioral modifications that include approaching sleep from a spiritual perspective. The intensive will be held on Sundays from 1:00pm until 3:00pm beginner February 16, 2014.
Elemental Om has been rated by Cincinnati Magazine as one of the top three best yoga studios in Cincinnati three years running. It is the only healing center in the city integrating Ayurveda, yoga, and meditation helping thousands transform naturally and organically.