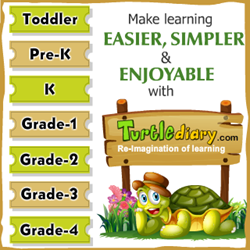 "My students and I absolutely LOVE Turtle Diary," said Elementary Teacher, Jennie Ferkaluk. Thank you, Turtle Diary, for making your educational site valuable to student learning, easy to use and FREE for teachers!"
Miami, Florida (PRWEB) May 14, 2014
To recognize their second anniversary and offer a new array of engaging, subject-specific free learning tools to a broader elementary school audience, online educational experts TurtleDiary have introduced a new curriculum specifically geared to fourth graders.
As with their free educational repertoire geared to children in Pre-K through Grade 3, TurtleDiary's new fourth grade games help kids become more engaged and accountable learners. The wide variety of fun educational activities and learning tools reinforce what they're learning in school in a friendly, supportive environment while helping them develop problem-solving skills, build self-confidence and recognize the importance of the consequences of their choices. The new fourth grade-appropriate series includes animated Math games focusing on core topics such as symmetry, time, decimals, polygons and parts of a circle.
"At TurtleDiary, our mission is simple – to make learning fun," said company founder Neetu Saini. "We continually enhance our site by developing more sophisticated educational tools and adding new grade levels, such as our newly launched fourth grade curriculum, to empower the re-imagination of learning."
With users in more than 160 countries, Turtle Diary offers an international educational platform that helps both children having a difficult time grasping a particular skill as well as those who need additional academic stimulation. Along with age- and grade-appropriate educational games, the website also features printable worksheets, engaging videos, fun arts and crafts activities, fiction and non-fiction short stories, biographies of famous people, and phonics-based lessons to prepare children for reading.
Designed to be intuitive and user-friendly for students, parents and teachers, Turtle Diary can be used on any computer that has Internet access and the most current version of Adobe Flash. An innovative platform for building skills, self-confidence and aptitude in a wide array of subject areas, the online games and activities can be played at home, on WiFi-enabled electronic devices, or at school in a computer lab or as part of an in-class group activity.
About TurtleDiary.com
Founded in 2012, TurtleDiary is a technology-based educational program that offers a full complement of free educational content for early learners that include more than 1,000 individual learning activities and over 200 lesson plans. Developed by a team of skilled educators and child psychology experts to deliver an enriching and enjoyable learning experience, these ingeniously designed online learning kids' games and activities geared for toddlers through fourth graders provide a fun and easy way for kids to develop a comprehensive understanding of concepts in Math, Science, Language, Social Studies, Creativity and Logic. The extensive range of age-specific online learning tools include skill building and puzzle games, animated lesson plans, printable worksheets, interactive storybooks, and arts and crafts activities.