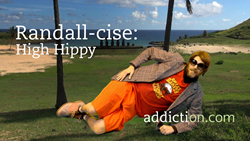 Maybe you can shed some pounds and get your abdomen hot.
Long Beach, CA (PRWEB) July 01, 2015
Addiction.com announced today the launch of Randallcise, a unique video series that encourages people in recovery to start exercising, if they feel like it. The somewhat professionally produced series offers viewers such fun workouts as Twisty Jumps, High Hippy, and Grabby Grabby Footsie. The exercises are led by Randall, best known for teaching us that honey badger don't care.
"Each video teaches you an amazing exercise, and they are better than any other exercise videos out there," claimed Randall. "Maybe you can shed some pounds and get your abdomen hot."
The videos take place in front of a lush Hawaiian backdrop dropped in by editing experts after shooting the segments in Randall's garage.
Randall demonstrates the exercises with subtlety and verve. "I focus on the narration and have my cameraman Gary, I mean Ryan, do the exercises," he says.
The exercises do not require any special equipment, not even a yoga mat.
Addiction.com is producing many unique video series to inspire and motivate people to get healthy in recovery. You can find the Randallcise videos at http://www.addiction.com/playlists/randall/ or on the Addiction.com YouTube channel at https://www.youtube.com/addiction.
About Addiction.com
Addiction.com is a leading online destination for those dealing with chemical and process addictions, the millions of Americans living in recovery, and the many more who love those struggling with addiction and mental disorders. Through helpful articles, blogs by leading experts, informational videos, meeting and therapist finders, infographics, recipes and dozens of other resources, Addiction.com builds community, awareness and a better understanding of addiction as a chronic but treatable disease.
Addiction.com is owned by Elements Behavioral Health, an owner of a series of behavioral health programs located throughout the United States. The Elements Behavioral Health® family of programs offers comprehensive, innovative treatment for substance abuse, sexual addiction, trauma, eating disorders, and other mental health disorders. Through its programs, the company is committed to delivering clinically sophisticated treatment that promotes permanent lifestyle change, not only for the patient but for the entire family network. For more information, visit elementsbehavioralhealth.com.