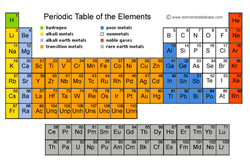 The video covers chemistry essentials and illustrates that science, and chemistry in particular, isn't a bore.
(PRWEB) June 18, 2014
ElementsDatabase.com releases a new video (http://www.elementsdatabase.com) to present interesting facts about elements from the Periodic Table, their chemical and physical properties, occurrence, and more. The video introduces chemical elements, which are the building blocks of matter and the Universe, offering facts in an engaging way.
The new video shows visitors that chemical elements play an important role – some elements are abundant, others are rare and are considered precious, and still others are men-made. Elements are at the heart of everything, from life on Earth to innovative technologies that drive progress.
"The video covers chemistry essentials and illustrates that science, and chemistry in particular, isn't a bore. The video presents curious facts to foster engagement and offers a quick tour in the world of chemistry," said John Williams, marketing consultant at Art Branch, Inc.
The video addresses topics such as alkali elements in the Periodic Table, the most expensive element, the most abundant substance, the lightest and heaviest elements, and many others. The goal is to encourage curiosity and show that there are creative and engaging ways to learn chemistry. Chemical elements have a number of commercial and industrial applications. They are used to produce specialty chemicals, medications, polymers, commodity chemicals, fuels, adhesives, paints, and a lot more. Many chemical elements have application in different industries and sectors, including communications, information technologies, biotechnology, manufacturing, and others. Chemistry isn't only about complex theoretical concepts and constructs but has relevance in everyday life. Chemical elements are the building blocks of rocks, soil, water, and matter and help make life easier. Scientists use metals and compounds to create, synthesize, and design new materials, products, and systems. The new video by ElementsDatabase.com offers a glimpse into the world of chemistry to illustrate the functional diversity and unique properties of elements essential for life on Earth, substances that pose a health hazard, and such that have a vast potential to improve quality of life.
About ElementsDatabase.com: ElementsDatabase.com is a free educational resource released by Art Branch, Inc., offering chemistry tutorials.