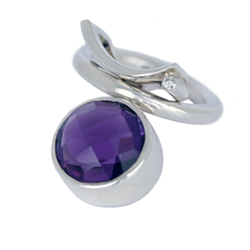 It's a win-win situation for both the stores and the customers, because when you fall in love with a ring and they don't have it in your size, it is disappointing.
New York, NY (PRWEB) April 08, 2015
Innovation comes in many forms, and internationally renowned jewelry designer, Elena Kriegner, is no stranger to invention. Her award-winning contemporary fine jewelry designs are admired by editors and stylists alike, and her knack for developing new mechanisms for interchangeable jewelry makes owning one of her pieces not only stylish and versatile, but an appreciated feat of engineering. In accomplishing one of the biggest challenges that face designers today, Kriegner has developed a new jewelry collection, Voyage, which consists of rings that solve 'the ring size problem.'
What is the ring size problem? One falls in love with a gorgeous ring, perfect in every way, but upon trying it on there is a major setback…the ring doesn't fit. Ring sizes can range from 3-14, with half and quarter sizes in between. Therefore, many designers choose to only develop a new ring style in a few select sizes, usually ranging from 6-9. This makes it difficult for women on both ends of the spectrum to find a ring that fits, and some women can only work with custom sizes. Kriegner, in an ingenious move, has developed rings separate from their decorative components, making it easy to purchase interchangeable designs that can be mixed and matched onto any ring size. For stores, this equates to less inventory and easier stocking. To add even more intrigue to the engineering precision, each of the gemstone decorative components can also be worn as a pendant, giving two stylish looks in one.
Kriegner says, "It's a win-win situation for both the stores and the customers, because when you fall in love with a ring and they don't have it in your size, it is disappointing. For a store, if you don't have the right size, you could lose the customer who has their heart set on one piece of jewelry. With Voyage, size doesn't matter, and as a bonus you get more variety when choosing whether to wear your piece as a ring or a pendant."
True to her aesthetic, Elena offers stunning statement cocktail rings in a variety of gemstones and stone cuts through the collection, including: diamonds, blue topaz, amethyst, ruby, sapphire, citrine, prasiolite, and cultured pearls in a range of colors. Perfect for the world traveler, or lady with many looks, each design component is easily removed from it's ring base, making it a cinch to change up a look by altering jewelry faster than an outfit. In addition, Voyage can be sported in either silver or gold, appealing to a wide range of stylish women. Kriegner says, "It's the perfect day to night jewelry. By day, the decorative element can be elegantly worn as a subtle pendant around the neck, and by evening the pendant can be converted into a cocktail ring—the perfect conversation piece for any woman."
There is another consideration with sizing to discuss; resizing rings is often a limited method, where rings are usually sized no more than one size up or down, if a customer is lucky. Causing strain on the ring's structure and style, sizing involves tampering with the original, ultimately compromising a piece. Because of this, it can be a costly investment, since finding a jeweler to take on a difficult sizing job isn't easy. The process is tedious for a jeweler, and stores can lose a sale if not carrying the right size inventory. Elena Kriegner has avoided the hassle for customers by revolutionizing the outlook on ring sizing without having to undergo any re-heating or re-working of any kind. All engraving also stays intact. The decorative element of the ring is removed entirely, which leaves the precious metal itself to size, keeping the gemstone away from heat and potentially damaging treatments. Therefore, rings can safely and easily be swapped out without affecting the integrity of the jewel. Engravings will also stay intact.
To learn more about Elena Kriegner's Voyage ring/pendant collection, check out her website http://www.elenakriegner.com or email info@elenakriegner.com. See a video of the designer at work on Vimeo (https://vimeo.com/96056726).
About Elena Kriegner
Elena Kriegner is originally from Austria where she excelled in the craftsmanship of creating and designing fine jewelry. She gained international recognition with her designs that are unique in creativity and style. Having worked in the jewelry industry for almost four decades, Elena astonishes young and old with her creations. Her inspiration is to make the world even more beautiful. Her design studio is located in Chelsea, in the heart of New York City.