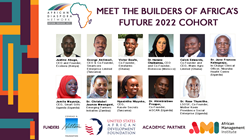 "We are happy to see that after five years, we are continuing to augment support for African changemakers and help scale their work and impact on the continent. Congratulations to the 2022 Builders of Africa's Future!" - Almaz Negash, Founder and Executive Director of ADN
SILICON VALLEY, Calif. (PRWEB) April 26, 2022
For the fifth consecutive year, the African Diaspora Network (ADN) announces the 2022 cohort of the Builders of Africa's Future (BAF) award comprising 11 African startups, in partnership with the Conrad N. Hilton Foundation, the United States African Development Foundation (USADF), and the African Management Institute of Kenya.
The 11 BAF entrepreneurs were selected from African-led and owned organizations across the continent, covering sectors such as healthcare, education, agriculture, renewable energy, and menstrual health. The BAF entrepreneurs are spearheading local and innovative solutions to Africa's and the world's complex problems. Past recipients of the BAF award include Flutterwave, Aella Credit, FundiBots, and Deaftronics, among others. Through BAF, African Diaspora Network has supported the growth of over 40 African entrepreneurs across the continent by providing funding, access to strategic partnerships, mentorship, and frontline access to investment opportunities in Silicon Valley. Past BAFs have gone on to receive additional funding from investors, increased visibility and recognition from international organizations including Nigeria's First Digital Startup Accelerator Program hosted by Forbes.
"We began Builders of Africa's Future in 2018 to ensure that grassroots African entrepreneurs have access to training, mentorship, and funding opportunities," said Almaz Negash, Founder and Executive Director of ADN. "We are happy to see that after five years, we are continuing to augment support for African changemakers and help scale their work and impact on the continent. Congratulations to the 2022 Builders of Africa's Future!"
"We are proud to support the African Diaspora Network, offering a robust network and platform to help Catholic sisters in Africa transform their programs into social enterprises and raise the visibility of innovative solutions," shares Sr. Jane Wakahiu, Associate Vice President of Program Operations and Head of Catholic Sisters at the Conrad N. Hilton Foundation. "Our founder was an avid supporter of Catholic sisters, and the Hilton Foundation continues this legacy by partnering with organizations like the African Diaspora Network, honoring sisters and their fellow changemakers through the Builders of Africa's Future award."
The 2022 Builders of Africa's Future awardees will receive access to two mentors each, enterprise training from the African Management Institute, and an opportunity to pitch to potential investors during the June 23 African Diaspora Investment Symposium (ADIS). Additionally, entrepreneurs who meet funding criteria will have an opportunity to receive up to $25,000 upon completion of the program.
"The African diaspora plays an important role in the economic development of the continent by promoting trade and foreign direct investment, creating businesses, spurring entrepreneurship, and transferring new knowledge and skills," said USADF President and CEO Travis Adkins. "USADF first partnered with ADN on the BAF program in 2021 to provide catalytic funding to African enterprises with potential to make significant social impact in their communities. We're proud to continue supporting ADN – one of the United States' preeminent diaspora organizations – while increasing the financial resources from the US$5,000 we provided to the 2021 BAF awardees to the US$25,000 we're providing to the 2022 BAF cohort of community changemakers."
The 11 entrepreneurs who make up the fifth BAF cohort are: Justine Abuga, CEO and Founder, Ecobora (Kenya); George Akilimali, CEO and Co-Founder, Smartcore Enterprise Limited (Tanzania); Victor Boafo, Co-Founder, Entofarms (Ghana); Dr. Hanane Chaibainou, CEO and Co-Founder, Biotessia (Morocco); Caleb Edwards, Co-Founder and CEO, Wami Agro Limited (Ghana); Sr. Jane Frances Kabagaaju, In-Charge Clinical Officer, Nkuruba Health Centre (Uganda); Jamila Mayanja, CEO, Smart Girls Uganda (Uganda); Sr. Christabel Juunza Mwangani, Emerging Farmers Initiative (Zambia); Hyasintha Ntuyeko, CEO, Kasole Secrets (Tanzania); Dr. Ahimbisibwe Prosper, Co-Founder, mSCAN (Uganda); and Sr. Rose Thumitho, LSOSF, Co-Founder, Mother Kevin Providence Social Enterprise (Uganda).
Find out more about the 2022 BAF cohort here, and learn about how the African Diaspora Network supports economic and social development for Africa and friends of Africa by visiting https://africandiasporanetwork.org/
###
About African Diaspora Network:
African Diaspora Network (ADN) is a registered 501(c)(3) nonprofit membership organization. Our mission is to harness and engage the intellectual, financial, philanthropic and entrepreneurial capacity of Africans and friends of Africa in support of economic and social development across Africa. Since 2010, the African Diaspora Network has energized collaboration among Silicon Valley entrepreneurs, philanthropists and African Diasporans to uplift its local community towards the benefit of Africa. ADN is dedicated to providing virtual and physical forums to accelerate access to resources that foster partnership, knowledge sharing, and advance investment opportunities.