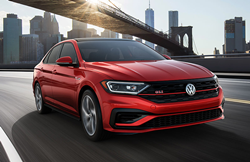 ELGIN, Ill. (PRWEB) April 24, 2019
The latest model to join the Volkswagen lineup is the striking and powerful 2019 Volkswagen Jetta GLI. Offering a more performance-oriented take on the popular compact sedan, the Jetta GLI is a great pick for drivers looking for that perfect blend of power and practicality. To help its customers get acquainted with the newest version of the Jetta, Elgin Volkswagen, a Chicago-area dealership located in Elgin, Illinois, recently published a model review of the 2019 VW Jetta GLI to its website.
Now available at the Elgin Volkswagen dealership, the new 2019 Volkswagen Jetta GLI is quickly becoming a favorite among drivers in the area. In the review of the Jetta GLI, the dealership addresses several aspects of the new model including its new engine specs, unique styling elements, available features and more. With this information, the dealership staff hopes that it can help customers decide if the new Jetta GLI is the right choice for them.
To view this model review as well as others like it for the rest of the Volkswagen lineup, readers are encouraged to visit the Elgin Volkswagen website at http://www.elginvw.com. There, additional information on the Jetta GLI can be found on the dealership's informative blog.
Those with questions or inquiries about the new 2019 Volkswagen Jetta GLI are encouraged to reach out to the helpful staff at Elgin Volkswagen, who can assist with test drives and vehicle details. Readers can speak with a dealership representative through the dealership website, by calling 877-797-6424 or by visiting the dealership's location at 2630 Auto Mall Drive.