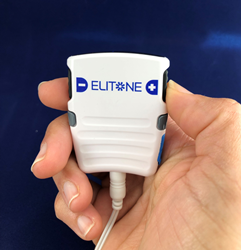 MONROE, Conn. (PRWEB) August 20, 2019
Elidah, Inc (https://elitone.com/), a woman-owned medical device company, today announced the launch of ELITONE®, the first and only patented medical device providing non-invasive treatment for stress urinary incontinence in women. ELITONE is the first product of its kind launched under a newly created FDA product category for non-invasive incontinence therapy. Stress urinary incontinence is the loss of bladder control when activities such as exercising, coughing, laughing or sneezing increase the internal pressure placed on the abdominal cavity and pelvic floor muscles.
"Incontinence is one of those issues that women don't discuss, even with their doctors," said Gloria Kolb, co-founder and CEO of Elidah. "It is not a natural part of aging, and it is largely treatable. Unfortunately, many women wait too long before pursuing treatment. We want to raise awareness that nonsurgical therapies exist that can help women return to an active lifestyle."
One out of every three women suffer from stress urinary incontinence. Most women typically experience mild to moderate symptoms for which surgical interventions are not warranted. However, women who fail to receive medical treatment may allow incontinence to progress to a debilitating state. If left untreated, the serious social, physical and economic ramifications can last a lifetime. ELITONE is designed to treat women's symptoms before they progress to a point where more invasive and risky interventions are required.
Past treatments for incontinence typically ranged from exercising the pelvic floor muscles – Kegel exercises – to utilizing vaginally inserted devices, which many women are understandably hesitant to use. ELITONE offers an innovative, non-invasive and clinically effective alternative. The discreet device is worn under clothing and against the skin like an absorbent pad. The device works by applying gentle stimulation to exercise the pelvic floor muscles, ultimately reducing leakage and improving incontinence. The therapy is rendered through externally applied disposable gel pads, which are both easy to use and comfortable to wear. The treatment sessions last only 20 minutes and can be done while tending to regular, daily activities. The use-at-home design indications make ELITONE accessible to women who might otherwise not be able to access pelvic floor therapy.
One recent customer who participated in trials raved, "Prior to using ELITONE, I had constant problems with incontinence – uncontrolled wetting, accidents getting out of the car, etc. I felt I had no control over my body and was depressed to think it would get worse over time. ELITONE changed my life. I now have complete control over urination again! No surprises, no worries."
ELITONE's development was funded in large part through grants awarded by the National Science Foundation. The product recently debuted at the annual conference of the American College of Obstetricians and Gynecologists (ACOG), where it was praised by gynecologists for filing the treatment gap between Kegel exercises and surgery.
One OB-GYN/urogynecologist noted, "I found the non-invasive surface electrical stimulation device to be a very effective method for reducing incontinence symptoms. In our cohort of patients, we were able to demonstrate better pelvic floor contraction than with Kegels alone, with a nonvaginal device that is very easy to use, comfortable and effective."
ELITONE is easily accessible and allows women to carry out treatment in the privacy of their homes. Elitone can be ordered directly from ELITONE.com.
About Elidah
Elidah is a woman-owned FemTech medical device company established in 2014 to help women who suffer from incontinence. Elidah is developing technologies that integrate recent advances in wearable devices, biomaterials and mobile interfaces to deliver innovative therapeutic solutions that are non-invasive, comfortable and convenient. Elidah is led by entrepreneur Gloria Kolb, Founder and CEO, an MIT- and Stanford-trained engineer whose previous accolades include Boston's 40 under 40 and MIT Technology Review's World Top Innovators Under 35 (TR35). To learn more, visit http://www.elitone.com.