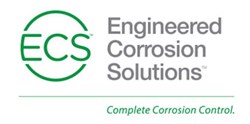 We invented Wet Pipe Nitrogen Inerting in 2010 in response to client demand for a safe, effective, and affordable corrosion control method in wet pipe sprinkler systems.
St. Louis, MO (PRWEB) November 22, 2013
Engineered Corrosion Solutions, LLC (ECS) reveals successful history of the first large scale deployment of their Wet Pipe Nitrogen Inerting (WPNI) technology, a highly effective corrosion control program for wet pipe fire sprinkler systems that eliminates the primary cause of corrosion.
The current industry approach of repairing leaks and replacing fire sprinkler pipe is costly and ineffective for property owners and facility managers. The vast majority of sprinkler leaks are caused by oxygen corrosion and the exercise of repairing a leak actually introduces enough new oxygen to fuel the corrosion reaction and produce the next leak. This self-sustaining process ensures the leak frequency increases over time unless something is done to interrupt the corrosion reaction.
"We invented Wet Pipe Nitrogen Inerting in 2010 in response to client demand for a safe, effective, and affordable corrosion control method in wet pipe sprinkler systems," said Jeff Kochelek, CEO of Engineered Corrosion Solutions. "We now have over three years of data with no leaks affirming the successful approach of removing oxygen from the piping with an inert gas. We looked at several alternatives, but in the end nitrogen inerting was the only option that made sense. Exotic corrosion resistant metals are too expensive, internal coatings pose the risk of delaminating and plugging sprinklers, while traditional chemical inhibitors create toxicity and compatibility risks for fire sprinkler components. Nitrogen is fully compatible with sprinkler systems and non-toxic."
One of ECS's first clients to use the WPNI program was experiencing a fire sprinkler leak once every two weeks. The mission critical aerospace manufacturer had billions of dollars' worth of product at risk of being damaged. The client's insurance underwriter, FM Global, suggested contact with ECS to seek expertise in solving the substantial corrosion problems at the million square foot facility with 25 overhead wet pipe fire sprinkler systems.
ECS worked with a fire sprinkler contractor to install and operate the WPNI equipment used to eliminate oxygen from the sprinkler systems. Mike Haase, Project Manager for Cosco Fire Protection, stated: "We have maintained the sprinkler systems since the WPNI program began in October 2010 and the client has not had a single leak in any systems treated with nitrogen. They were so happy with the results of using nitrogen that they decided to use it in all sprinkler systems throughout their campus."
According to Lucas Kirn, Market Development Manager at ECS, "The client was in a difficult position because they felt their only option to prevent leaks was pipe replacement and conversion to preaction sprinkler systems which would have cost millions. Even worse, one small leak could damage their finished products. Since the leak frequency at the facility was increasing their risk was becoming intolerable. Our solution proved to be much more cost effective, eliminated a major disruption to their manufacturing process, and prevented insurance claims and damage to their business."
About Engineered Corrosion Solutions, LLC:
Engineered Corrosion Solutions, LLC is a corrosion risk and mitigation consulting firm serving owners, engineers, and the fire protection industry with assessment, analysis, and hardware/software systems to minimize or eliminate corrosion in fire sprinkler systems. Since a single sprinkler system leak can destroy millions of dollars in product or service value, it makes sense to eliminate corrosion that causes sprinkler pipe failures. ECS has delivered hundreds of systems to eliminate corrosion to a diverse client list which includes dozens of Fortune 500 companies in North America, Europe, and Asia. To find out more, please visit http://www.ecscorrosion.com or dial 1-877-432-8040.