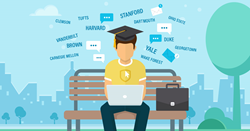 Elite Online is a searchable list of every online program offered by the Top 200 national universities.
SANFORD, NC (PRWEB) March 29, 2016
After decades in the shadows, the nation's elite universities have decided that online learning is not only here to stay, but something to be proud of. While an online education is sometimes scoffed at, the 231 online programs offered by Harvard, Columbia, and Stanford—to name a few—are no laughing matter. In fact, 98% of the nation's top 200 universities now offer online programs, including higher education's "upper crust." The challenge is that locating these programs isn't always easy, because the "online" stigma is still wearing off.
One startup company, Elite Online, is bringing prestigious online education to the forefront. The website is a searchable list of every online degree and program offered by the Top 200 national universities, from Princeton University (#1) to the University of Colorado Denver (#200) and every college in between. Elite Online's team of researchers updates the site daily as new online degrees and programs emerge, already at 6,466 options and counting.
You won't find DeVry, Kaplan, or the University of Phoenix on the site. In fact, every for-profit online university is even blocked from advertising, and the company makes no apologies for it, "Elite Online was founded by people with degrees from top national schools, and we want to make it easy to find online degrees of the same caliber." said spokesperson Ty Buckingham. "What began as a personal interest turned into a business, because so many people are looking for the same information. This is the first time online programs have been organized this way—by prestige."
Elite Online's rankings are based on U.S. News & World Report's Best National Universities list. Online programs can be filtered by degree type, certificate, endorsement, or course, and dozens of areas of study. The company doesn't charge for the service, and they never intend to.