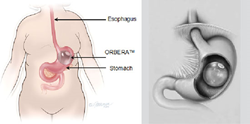 Elite Surgical Center outlines three specific reasons why a patient may want to consider the ORBERA device.
Fremont, CA (PRWEB) August 11, 2015
According to an announcement posed August 5th on the website of the Food and Drug Administration (FDA), the new ORBERA Intragastric Balloon System was approved for use over a six month period to help patients lose weight. In a clinical study outlined by the announcement, the average patient loses 21.8 pounds over the six months that each patient had the device implanted. This is compared to an average of 7 pounds lost for patients who were guided through a behavioral modification program but did not get the balloon. According to Elite Surgical Center, this new method is very promising for certain patients who feel stuck between their inability to lose weight through traditional diet and exercise, and their aversion to more significant weight loss procedures. Elite Surgical Center outlines three specific reasons why a patient may want to consider the ORBERA device:
1. "It isn't Permanent" – Elite Surgical Center highlights the fact that, unlike many types of bariatric surgery, the ORBERA is not permanent. In fact, because the FDA only approved the device for six months of use, no patient will have it implanted for more than half a year. While undergoing any medical procedure is an important decision that requires careful consideration, this short time-frame makes the decision to opt for the ORBERA device a lesser commitment.
2. "It is Incision Free" – While traditional weight loss surgical procedures have proven to be very effective ways of helping patients lose weight, they may leave some degree of scarring around the stomach and midsection. Elite Surgical Center highlights the fact that the ORBERA Intragastric Balloon System is implanted through the mouth, so that patients are not left with any sort of scarring. Not only does this offer a cosmetic benefit, it also makes for faster recovery times.
3. "Patients Don't Have to be Severely Obese" – For most types of weight loss surgery, patients will only qualify if they have a BMI of 40 or more, or have a BMI greater than 35 in concert with some type of dangerous obesity-related health condition such as diabetes or heart disease. Yet, because the ORBERA system is approved for patients who have a BMI ranging from 30-40, patients who are not quite eligible for traditional bariatric surgery can benefit from the new device.
Elite Surgical Center is devoted to providing patients in the Bay Area and beyond with the most cutting edge procedures from top-tier surgeons. Anyone interested in scheduling a consultation or learning more about any of the procedures they offer can call THIN.2.2.THIN (844-622-8446) or visit them online at http://www.EliteSurgicalCenter.com.