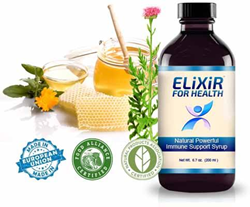 The Elixir For Health taken every day can help you get rid of muscle tension, sense of anxiety, overall apathy and fatigue.
(PRWEB) June 22, 2014
In a remote part of Syberia (Russia) grows a purple herb that allegedly possesses the power to improve overall health and strengthen the immune system. It's called Leuzea carthamoides and most of us may have never heard about its existence and effects on the human body. Russian athletes have been using the roots of that plant to increase endurance, improve concentration, and recover faster from exhaustion. Moreover, studies show that its roots extract greatly increases work capacity, alleviates feelings of depression and anxiety, and has an additional beneficial effect on:

Toxins flush-out
Cells regeneration
Memory functions
Immune system capacity
Has anti-fungal properties
Quality of sleep
Nevertheless, that's only one of the two ingredients in the newly-developed syrup for better body and mind balance. It's equally rare to the second one, though. What unambiguously places Elixir For Health among some of the highly trusted means for immune system strengthening is namely its second ingredient - Royal Jelly. Apart from the apparent exquisiteness of its name, that bee-produced compound is famous for serving to prolong the life span of the queen bee by 40 times. Some scientific findings regarding the beneficial effects of Royal Jelly on human body do admit that the substance has a positive influence on immune system functions, blood circulation, memory, concentration, skin, and muscles.
In order to handle things to customers' liking, Elixir For Health LLC has made ordering the product as easy as possible. It can be purchased on their official website by placing an order online: http://www.elixir-for-health.com.