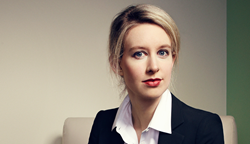 SANTA CLARA, California (PRWEB) July 22, 2015
On July 23, 24 and 25, world's most coveted alumni from the Indian Institutes of Technology (IITs) will host the annual Global Leadership Conference (GLC), at the Santa Clara Convention Center. The event will share perspectives on creating the two essential building blocks of a flourishing community: succeeding and giving back. The conference registration is open to all. On July 23, the GLC will host a pre-conference Women's Day event focusing on leadership & growth of women from STEM.
The 2015 conference will feature a plenary keynote address on July 25th by Elizabeth Holmes, the first sole female founder to build a multibillion-dollar company in technology or healthcare. She is the youngest self-made female billionaire in the world, ranked #1 on Forbes list of Self-Made Women. She was named one of the TIME 100 Most Influential People in the World in 2015. Elizabeth recently received 2015 Horatio Alger Award for her passionate advocacy for female engagement of STEM curricula. Her presence at the conference would inspire many young women IIT alumni in STEM.
At age 19, she left Stanford University's School of Engineering to build Theranos around her patents and belief that access to health information is a basic human right. She conceived of a way to perform multiple tests at once, using the same micro-samples, and to deliver the results wirelessly to a doctor. She was ultimately awarded a patent for this idea that was issued in November 2007. Elizabeth currently has 18 U.S. patents and 66 non-American patents listed in her name. She has also been named as a co-inventor in more than 100 filed patents.
Elizabeth led the passing of the first law in our nation's history to give individuals the explicit right to direct access laboratory testing. The law was based on a draft she wrote, empowering 7 million Arizonans, facilitating engagement with and protection of physicians, and creating a model for other states across the country to shift toward preventive care, individual empowerment and price transparency. Elizabeth was #1 on Business Insider's 2015 Silicon Valley 100, their annual list of people who matter most in technology.
The 2-day conference and the pre-conference Women's day feature over 125 luminaries, including over 40 women – keynotes, panel discussions and special leadership series of lectures.
The full list of speakers and conference content is available at http://iitglc.org. Attendees can also leverage the mobile app to track the agenda, customize their experience and network with speakers and other attendees.
About IIT (Indian Institute of Technology)
IITs are autonomous public institutes of higher education, located in India. They are governed by the India's Institutes of Technology Act, 1961, which has declared them as "institutions of national importance".
ABOUT PANIIT Inc. & IIT-ians:
PanIIT Inc. is a 501c (6) not-for-profit, US based organization of the alumni from the Indian Institutes of Technology (IITs):

A recent study by Brown University highlights that "Alumni from the five IITs together accounted for 122 computer science faculty in the top 50 American universities, second only to MIT, the top contributor with 127 faculty members."
"IITs are ranked fourth (just ahead of Harvard) in a new ranking of the top 50 universities that have produced VC-backed founders." – Pitch Book Data, a US-based PE and VC research firm. See latest collection of companies founded by IIT-ians.
"Put Harvard, MIT and Princeton together and you begin to get an idea of the status of this university in India." – CBS 60 MINUTES, Imported from India, by Lesley Stahl.