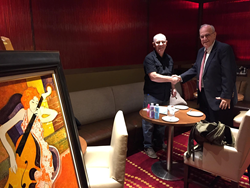 ARTober really allowed us to highlight our rich local art scene and encouraged a conversation between our local artists and art lovers. - Lauren Ferrigno
Elizabeth, NJ (PRWEB) November 16, 2015
The city of Elizabeth recently concluded a fun and fantastic ARTober event coordinated by the tourism organization GoElizabethNJ in conjunction with the state of New Jersey. ARTober is a statewide social media event in New Jersey designed to showcase regional artists and their locally themed art. Elizabeth's ARTober event showcased many original art pieces, including paintings and sketches, attracting residents and visitors alike.
The city of Elizabeth participated in this year's event between October 26 and October 30 by showcasing three artists' works at different hotels across the city. Each show was free and open to the public. Local art enthusiasts strolled in and out of the venues as they pleased, wandering the area to see the array of artwork. As part of the City of Elizabeth's Hotels Promoting Local Artists campaign, the event was sponsored by Discover Jersey Arts as well as a number of participating host hotels, including the Hilton, Renaissance Hotel and Embassy Suites. The artists also created an original piece of art at the live exhibition.
This year's participating artists included Kervin André, Dario Scholis and Fernando Silva. All artists displayed at least five pieces of original art that they considered to be representative of local culture, food, monuments and landmarks of the city of Elizabeth. The artists spent the evenings interacting with festival-goers and snapping photographs for attendants.
"We could not have asked for a better group of artists and a more enthusiastic turnout of locals and visitors from around the area," said Lauren Ferrigno, marketing coordinator at GoElizabethNJ. "ARTober really allowed us to highlight our rich local art scene and encouraged a conversation between our local artists and art lovers."
The Renaissance hotel hosted the first night of ARTober, featuring Dario Scholis, painter and instrumental performer; the second night's activities were held at the Hilton, showcasing original paintings by Fernando Silva; the following night's event was located at the Embassy Suites, featuring Kervin André's artwork.
For more information on the ARTober event and its artists and artwork, or for information on upcoming events, contact GoElizabethNJ at 908-355-9797 or stop by 456 N Broad Street in Elizabeth, NJ 07208. Alternatively, reach out to them on the web by visiting http://www.goelizabethnj.com.
About GoElizabethNJ: GoElizabethNJ provides information on the varied shopping, diverse communities, affordable hotels, excellent dining and general attractions of the city of Elizabeth, NJ. Founded in 1664, Elizabeth is the fourth-largest city in New Jersey and is known for its rich colonial American history, nightlife, art, food and waterfront and outdoor activities.