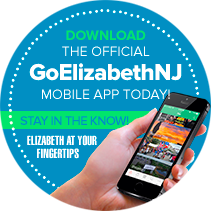 Using this app, we can help you plan your perfect trip to Elizabeth, which is New Jersey's up-and-coming urban tourist destination
Elizabeth, NJ (PRWEB) October 06, 2015
The Elizabeth Destination Marketing Organization, which has been recently rebranded as GoElizabethNJ is available in the Android and iPhone app stores.
"Elizabeth is a city brimming with history, exciting nightlife, premier shopping destinations and a melting pot of cuisines," said Lauren Ferrigno, marketing coordinator at GoElizabethNJ. "Using this app, we can help you plan your perfect trip to Elizabeth, which is New Jersey's up-and-coming urban tourist destination."
The GoElizabethNJ app offers a number of features that allow visitors to discover the attractions the city has to offer. Tourists can check the "Dining" section to browse through the area's best restaurants, which include an array of venues showcasing Italian, Portuguese, Latin Fusion and Cuban cuisine. The "Play" section provides arts and entertainment options as well as opportunities for outdoor recreation, sightseeing, historical attractions and nightlife.
Visitors can use the "Stay" section to find and book their hotel room, as the app allows tourists to navigate the rooms and amenities of over 2,500 guest rooms available at the city's overnight or extended-stay hotels. Transportation is also simple with the new app; by navigating through its menus, tourists can reserve a rental car or request a taxi, plan a driving route and find parking garages or meter rates throughout the area. Visitors to the region can also take advantage of the list of train schedules.
"Our goal was to design a truly multifunctional app that would allow our guests to have everything they needed at their fingertips," Ferrigno stated, explaining that the app even allows visitors to save scheduling information to their personal calendars as a quick reference on the go. "We wanted to make it easy to find the region's best shopping, dining and entertainment venues so that visitors don't miss a single opportunity."
Visitors are encouraged to download the GoElizabethNJ app or go to the goelizabethnj.com website, where they can access the GoElizabethNJ Facebook page or sign up for a monthly newsletter to receive up-to-date event information for visitors. For more information on the organization and its mission, interested parties can also contact at 908-355-9797 or visit in person at 456 N. Broad St., Elizabeth, NJ 07208.
About GoElizabethNJ
GoElizabethNJ, formerly the Elizabeth Destination Marketing Organization, is affiliated with the Greater Elizabeth Chamber of Commerce. GoElizabethNJ is currently working with Elizabeth's leadership and residents to better brand Elizabeth as a tourist destination.