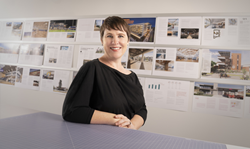 "As we grow and scale our firm, we need someone focused on reinforcing the value that sustainable design brings to all of our clients." -Wendy Rogers, CEO, LPA Design Studios
IRVINE, Calif. (PRWEB) October 06, 2022
LPA Design Studios has hired Ellen Mitchell, a recognized national leader in the design industry's move to create more energy-efficient, equitable and resilient built environments, to serve as Director of Sustainability and Applied Research.
Mitchell, who joins the firm as Associate Principal, has spent the overwhelming majority of her two-decade career focused on integrating sustainability and high-performance design, achieving results across a diverse range of project types, budgets and cultures. She has overseen more than $4 billion worth of construction, working with clients to reduce their projects' negative environmental impacts, while adding value and enhancing human health and well-being.
She is a frequent speaker and presenter at national and regional events, advocating for a holistic approach to sustainable design and the industry's role in developing equitable, supportive projects for communities and the environment.
In her new position, Mitchell will guide LPAred, LPA's in-house research team focused on developing actionable research to support the firm's informed design process. She will also lead initiatives to advance sustainability and high-performance design, building on the integrated design firm's culture of education, accountability and innovation.
"We are thrilled to add Ellen's knowledge and experience to our team," says LPA Chief Executive Officer Wendy Rogers. "As we grow and scale our firm, we need someone focused on reinforcing the value that sustainable design brings to all of our clients."
The recipient of the 2021 AIA California Firm Award, LPA focuses on an informed design process that makes sustainable design the foundation of every project, regardless of size, budget or scale. In 2018 and 2019, LPA was the only firm in the country with more than 100 employees to surpass the AIA 2030 Commitment target of reducing predicted energy use by more than 70% across more than 11 million square feet of projects.
"I have been an admirer of this firm for years and I am incredibly excited to be taking the next step in LPA's unique culture," Mitchell says. "My goal will be to work with project teams and clients to optimize our approach and processes to help every project reach its full potential."
Throughout her career, Mitchell has championed an expanded awareness of the industry's social impact, as well as environmental issues. A tireless advocate for public interest design, she previously founded and directed an initiative dedicated to providing reduced-fee or gratis design work to communities and non-profits, working on projects ranging from a net zero energy maternity ward in Uganda to an urban food studio in Washington D.C.
"Ellen will be a valuable resource across the firm," says LPA Chief Design Officer Keith Hempel. "She will help our project teams set goals, find innovation and develop the rigor necessary to help our clients cut operating costs and create more sustainable, healthier environments."
About LPA Design Studios
Founded in 1965, LPA specializes in creating innovative environments that work better, do more with less and improve people's lives. An integrated design firm with more than 400 in-house architects, master planners, engineers, interior designers, landscape architects and research analysts, LPA is focused on a research-driven, inclusive design approach to developing better-performing facilities. In 2021, LPA earned AIA-California's Firm Award, the state industry's highest honor for an architecture practice. For more information, visit lpadesignstudios.com.