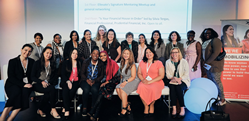 With Ellevate Squads, we have deliberately built a program that redefines the way busy, professional women cultivate their network, in order to help them build those illusive but crucial connections that are proven to help boost their careers.
NEW YORK (PRWEB) July 09, 2019
Ellevate Network, the leading network for professional women, has opened applications for the Fall 2019 cohort of Ellevate Squads, an innovative online program, which helps ambitious, professional women develop leadership skills, troubleshoot possible setbacks, and take the next step in their careers.
At Ellevate's recent Mobilize Women Summit (June 21), speakers and attendees tackled the biggest problems facing our world, fostering the candid conversations that make us stronger as women and as a global community. The Summit focused on discerning actionable steps women and allies can take to enact change, both on a macro and micro scale. Ellevate Squads are designed to help Ellevate's members enact such change, by building the skills and confidence needed to step into leadership, to advocate for themselves and others, to help close the gender gap in business, thereby changing the culture of business from the inside out.
Ellevate Squads are small, diverse groups of professional women at similar points in their careers, who are looking for support, opportunities to mentor others, and a place to build the kinds of relationships that are proven to make a difference. In this 12-week program, women will learn from one another, make progress toward their goals, and find a group that will hold them accountable for creating their own version of success.
Through this program, participants spend 30 minutes each week video conferencing with driven, intelligent women - it's the best way to get the support and insight professional women need to accomplish their career goals. 7 out of 10 women have a positive or very positive outlook on their career after completing the Squads program and 73% of participants say their squad gave them ideas, tools, and resources that they didn't have before. Nearly half of women who participated reported that it gave them the opportunity to mentor and support other women.
Stephanie Lewis, an Ellevate Squad Mod from the Fall 2018 cohort, said, "More heads are better than one. There was so much value in what every member contributed, in knowledge, wisdom, and experience. Everyone, no matter their background or field, has something to offer."
After a successful launch in October 2017 and four program cycles completed, the Ellevate Squads program has proven to provide tangible value to women in the Ellevate community. The hand-picked groups are designed for members based on specific criteria, such as meeting women in their local region, those with similar career goals and challenges, those outside their usual work environments.
Each Squad is unique and participants customize their experience by selecting specific discussion topics in our curated curriculum; each Squad is granted access to custom worksheets, designed to propel the discussions forward, as well as Ellevate's online library of resources. Plus, participation is easy — you can join the meetings online from any device, anywhere.
Ellevate Network CEO Kristy Wallace said, "The value of the Ellevate Network community truly shines through our Ellevate Squads program. We know that developing deeper professional connections, especially in a digital age, is difficult, but we have seen the career-changing power women have when they support one another. With Ellevate Squads, we have deliberately built a program that redefines the way busy, professional women cultivate their network, in order to help them build those illusive but crucial connections that are proven to help boost their careers."
Ellevate Squads are available twice per year to Ellevate Network Achiever, Innovator, and Executive Council members; in order to participate in a Squad that meets this Fall, your application must be submitted by July 23.
Women in the program have said:

"The relationships you make in your Squad do not have to end when the meetings do; I still meet in person or online with some of the women from my first Squad and I plan to do the same with the second Squad I joined." Read more from Kara here.
"My career is my life, or my ikigai (a Japanese concept that means "my reason for being"). Participating in Squads has helped me become more open and less shy, which is has a positive impact on me everyday." Read more from Yansi here.
"Connecting with others outside your normal circle is one of the best things you can do to get a truly unbiased and outside-in perspective. Your Squad mates may certainly not understand all of the players in your story or challenge, but their advice can sometimes be that push that you need to move forward." Read more from Sarah here.
Applications for Ellevate Squads are currently open and will close on July 23, and new Squads will start meeting the week of September, after Labor Day. You can submit your application here.
To learn more about how Ellevate Network works to achieve equality for all, click here. To sign up for the Ellevate Network newsletter so you don't miss the next opportunity to apply for Squads, click here.
About Ellevate Network
Ellevate Network is a community of professional women committed to helping each other succeed. We believe that when ambitious professional women get more opportunity — to have a voice in important conversations, to have a seat at the table where decisions are made, to steer our collective economic power towards that which we care about — it ultimately benefits everyone, and leads to a more equal world. Ellevate also works with companies committed to diversity and inclusion and has a proven track record of changing business culture from the inside out.