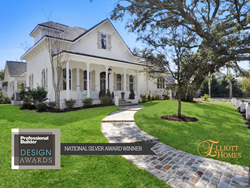 Thank you Professional Builder judges and the Elliott Homes' team, the best on the Mississippi Gulf Coast.
Gulfport, Miss. (PRWEB) September 05, 2015
Elliott Homes LLC builds luxury custom homes in Gulfport, Mississippi. Their new custom home, The Kennedy, has been named a winner in the Professional Builder Design Awards contest, which recognizes the nation's top home-building projects for their design excellence, sales and marketing success, and construction quality.
Sponsored by Professional Builder magazine, the PB Design Awards honors projects across eleven categories: single-family homes, multi-family homes, one-of-a-kind custom homes, "on the boards" projects, communities, systems built/modular, green, best revised plan and urban infill. Elliott Homes LLC has won the Silver Award in the one-of-a-kind custom homes category.
Professional Builder has been providing builders, architects, designers, trade partners, and suppliers with award-winning content and proven, practical solutions since 1936. The magazine serves an audience of more than 112,000 leading decision makers in the home-building market.
"Building new custom homes requires a great team. It is a huge honor to win this award and I couldn't be more proud of my staff. This wouldn't be possible without their hard work, dedication and commitment to building beautiful, high-quality, luxury custom homes. Their passion for building each home better than the last is amazing and this award proves that their extraordinary efforts did not go unnoticed," says Brandon Elliott, President.
The PB Design Award winners will be featured in the September 2015 issue of Professional Builder, as well as online at http://www.probuilder.com.
About Elliott Homes LLC
Established in 2009, Elliott Homes builds new custom homes on the Mississippi Gulf Coast. In addition to receiving the 2014 and 2015 Sun Herald People's Choice Award Elliott Homes has also been awarded the 2013 Talk of the Town Customer Satisfaction Award and the 2012 Builder of the Year Awards by both the Home Builders Association of Mississippi and the Home Builders Association of the Mississippi Coast. Elliott Homes is also the 2012, 2015 and the upcoming 2016 St. Jude Children's Hospital Dream Home builder. For more information about Elliott Homes go to http://www.myelliotthome.com.