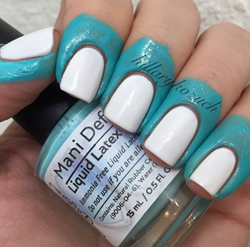 Mani Defender is like... a drop cloth for your nails!
San Antonio, TX (PRWEB) March 29, 2016
Ellison's Organics (http://www.ellisonsorganics.com), in association with The Artisan Group®, will participate in an invitation-only luxury celebrity gift lounge hosted by GBK Productions on April 8-9, 2016, at an exclusive location in Los Angeles, California, in honor of the MTV Movie Awards nominees and presenters.
Ellison's Organics will include its popular (over 13,000 Etsy likes) Mani Defender™ Liquid Latex (retail $6.75 USD) in The Artisan Group's coveted celebrity and press swag bags. This ammonia-free liquid latex, also known as nail tape, is as easy as a breeze to use – simply paint around your nails and let dry. Then apply stamping, gradient, or nail art. The excess polish will easily peel off with the liquid latex when the job is finished. Mani Defender is especially great for water marbling techniques.
Says Carleigh Pearce, founder of Ellison's Organics, "Mani Defender is the perfect product for anyone who loves painting their nails – especially those who struggle with neatness; anyone interested in nail stamping or nail art and those who have shaky hands and can't apply polish neatly. It's like a drop cloth for your nails!"
In other news, Ellison's Organics is introducing a line of crème polishes that glide on like a dream and are wonderful for stamping. Path to Greytness, a year-round, elegant grey, and No Butter Friend, a soft summery yellow, have already been released. It will also participate in the upcoming 2016 New York City Holiday Consumer All Press Event and will have products included in the Nouveau Geek Box, a new Super Mario Bros. themed subscription box that is scheduled to launch in April.
Ellison's Organics nail polishes and supplies are created one bottle at a time by Pearce herself. Vegan friendly, all glossy lacquers are gluten, formaldehyde, toluene and DBP free. All matte nail lacquers (and select glossy lacquers) are free of formaldehyde, formaldehyde resin, camphor, toluene and DBP. Organics does not use any added dyes or chemicals in any of their nail lacquers.
"To keep things fresh, I mix each shade to order, right in the bottle," notes Pearce. "My concern is keeping our polishes as healthy and environmentally-friendly as possible. So, in addition to being three-free and vegan, most colors are derived from natural micas and pigments."
Ellison's Organics nail lacquers are available online at ellisonorganics.com and retail for $12.00 for a 15 ml bottle.
Carleigh founded Ellison's Organics in 2012, in an effort to find affordable organic soap products she could use with her children. As her passion for creating handcrafted natural bath and body products grew, so did the company. Today Ellison's Organics offers a full line of body and bath products for kids and adults. Its Building Block and Figurine soaps are popular stocking stuffers for kids, while the Four Clay Mask and Lavender and Grey Sea Salt Spa Salts are appropriate for adults and older teens.
Ellison's Organics was selected for a Nail It! Magazine indie polish spotlight and was recently featured in the Mercer Island Reporter. Its products have been included in several subscription boxes, to great acclaim, and in celebrity swag bags for GBK's Luxury Gift Lounges for the 2015 Golden Globes, 2014 New York Fashion Week and the 2014 MTV Movie Awards, where they landed in the hands of cast members from "Two Broke Girls," "Grimm," "Hart of Dixie," "Justified" and "Nashville," among others.
The company has a coveted five-star customer satisfaction rating on Etsy.
Members of the press who would like to learn more about Ellison's Organics may contact Carleigh Pearce by email or phone. Become a fan on Facebook (ellisonsorganics) and follow the company on Twitter (@ellisonorganic) and Instagram (@ellisonsorganics).
For press inquiries regarding The Artisan Group, visit theartisangroup.org.
*Neither Ellison's Organics nor The Artisan Group are officially affiliated with MTV or the MTV Movie Awards.
ABOUT ELLISON'S ORGANICS
Ellison's Organics (http://www.ellisonsorganics.com) of San Antonio, Texas, is the place to shop for handcrafted organic and natural bath and body products. Healthy, hand-made beauty products including organic oils kids' soaps, nail polishes, bath salts and more, are carefully formulated to cleanse, nourish and pamper body and home, without the use of harsh chemicals and additives.
ABOUT THE ARTISAN GROUP
The Artisan Group® (http://www.theartisangroup.org) is a premier entertainment marketing group dedicated to representing small business artisans at the best celebrity gift lounges and press events. The organization provides a collective sampling of handcrafted products to celebrities and members of the press at top luxury gift lounges such as those leading up to The Academy Awards, The Golden Globes, The MTV Movie Awards and The Primetime Emmys.
The Artisan Group also coordinates product placement of its member's handcrafted products on such hit television shows as The Voice, The Vampire Diaries, Days of Our Lives, The Young & The Restless, Modern Family, Jane The Virgin and Law & Order: SVU, among others. Membership in The Artisan Group is juried and by invitation only.