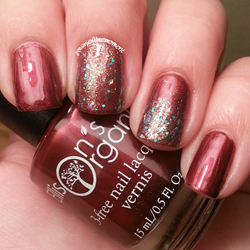 My Favorite Things will take your nails through the holidays and beyond...
San Antonio, Texas (PRWEB) November 26, 2014
Ellison's Organics (http://www.ellisonsorganics.com) is pleased to announce the online debut of My Favorite Things, a collection of winter-ready nail lacquers that includes the holiday-themed duo, Did You Mis(tletoe) Me and Merry Kissmas. The company will also gift trendsetter favorite Bigger on the Inside at GBK's 2015 Golden Globes Celebrity Gift Lounge in association with The Artisan Group®. The Gift Lounge takes place January 9-10, 2015 at an exclusive location in Beverly Hills.
The My Favorite Things collection includes seven three-free, vegan lacquer shades, thoughtfully crafted to take Fashionistas and nail art aficionados through the holidays and beyond. From the festive, shimmering gold of Packages Tied Up with Strings to the wear it with jeans or an LBD versatility of gleaming red Merry Kissmas, Ellison's Organics has made sure every look is covered.
"So often holiday lacquers are beautiful during the season but don't travel beyond it," notes Ellison's Organics CEO Carleigh Pearce. "The My Favorite Things collection is formulated to evoke holiday festivities, yet work year-round as well. These lacquers also layer beautifully to provide even more options."
Shades in the My Favorite Things collection include: Bright Copper Kettles, Did You Mis(tletoe) Me, Merry Kissmas, Packages Tied up with Strings, Raindrops on Roses, Warm Woolen Mittens and Whiskers on Kittens.
For GBK's 2015 Golden Globes Gift Lounge, Ellison's Organics will have on display 20 of its best-selling lacquers. It will gift celebrities the shade Bigger on the Inside, a deep blue crelly reminiscent of Pantone's Fall/Winter 2014 Royal Blue.
Part of the company's Doctor Who collection, Bigger on the Inside is a must have for the Doctor Who devotee, or anyone who loves wearing an on-trend nail. The color is ideal for creating nail art and TARDIS nails, and complements many winter fashion looks. Says Pearce, "Bigger on the Inside is one of our top sellers, appealing to Doctor Who fans and trendsetters alike. We gifted it to celebrities at 2015 New York Fashion Week, and it created quite a splash. Selenis Leyva, who plays Georgia on Orange is the New Black, is a fan of the color as well."
Ellison's Organics nail polishes are created one bottle at a time by Pearce herself. They are vegan-friendly and gluten, formaldehyde, toluene and DBP free, with no added dyes or chemicals. "To keep things fresh, I mix each shade to order, right in the bottle," notes Pearce. "My concern is keeping our polishes as healthy and environmentally-friendly as possible. So, in addition to being three-free and vegan, most colors are derived from natural micas and pigments."
Ellison's Organics three-free nail lacquers come in a range of colors and retail for $10.50 to $12.00 for a 15 ml bottle. They are available online at ellisonsorganics.com and select boutiques.
Ellison's Organics was founded by Carleigh Pearce in 2012 in an effort to find affordable organic soap products she could use with her children. As her passion for creating handcrafted natural bath and body products grew, so did the company. Today Ellison's Organics offers a full line of body and bath products for kids and adults. Its Building Block and Figurine soaps are popular stocking stuffers for kids, while the Four Clay Mask, Lavender and Grey Sea Salt Spa Salts and Detox Spa Salts are appropriate for adults and older teens.
Ellison's Organics was recently selected for a Nail It! Magazine indie polish spotlight. The company has a coveted five-star customer satisfaction rating on Etsy. Its products have been included in celebrity swag bags for GBK's Luxury Gift Lounge for 2014 New York Fashion Week and the 2014 MTV Movie Awards, where they landed in the hands of cast members from "Two Broke Girls," "Grimm," "Hart of Dixie," "Justified" and "Nashville," among others.
Members of the press who would like to learn more about Ellison's Organics may contact Carleigh Pearce by email or phone. Become a fan on Facebook (ellisonsorganics) and follow the company on Twitter (@ellisonorganic) and Instagram (@ellisonsorganics).
Information about The Artisan Group® is available at theartisangroup.org.
ABOUT ELLISON'S ORGANICS
Ellison's Organics (http://www.ellisonsorganics.com) of San Antonio, Texas is the place to shop for handcrafted organic and natural bath and body products. Healthy, hand-made beauty products including organic oils kids' soaps, nail polishes, bath salts and more, are carefully formulated to cleanse, nourish and pamper body and home, without the use of harsh chemicals and additives.