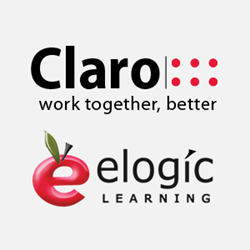 We are very excited that eLogic Learning has chosen to integrate Claro with their top rated eSSential LMS. If you combine the best product the market has to offer with industry defining support, you'll always end up with very satisfied customers.
Tampa, FL (PRWEB) December 09, 2014
eLogic Learning has partnered with dominKnow Learning Systems to include the company's award-winning Claro eLearning authoring software with the eSSential Learning Management System (LMS) at no additional charge for qualifying new clients.
Claro is a cloud-based collaborative solution for creating eLearning content and has been the recipient of Brandon Hall's Gold Medal for Best Advance in Content Management Technology for four years running. Additionally, Claro was named the #1 or #2 Best Authoring Tool since 2010 by E-Learning 24/7 out of 190 authoring tools reviewed. The eSSential LMS was also recognized by E-Learning 24/7 as a Top 5 LMS for 2014 out of over 600 LMS solutions.
"We are very excited that eLogic Learning has chosen to integrate Claro with their top rated eSSential LMS," says dominKnow's SVP of Business Development Paul Schneider. "We share the same philosophy when it comes to learning product offerings and customer service. If you combine the best product the market has to offer with industry defining support, you'll always end up with very satisfied customers."
According to eLogic Learning's Vice President of Sales Aaron Olney, integrating the eSSential LMS with Claro helps organizations take advantage of the time-saving benefits cloud-based technologies offer.
"It is eLogic Learning's mission to continually enhance our products and solutions to ensure we're meeting our client's evolving needs. The integration of authoring software with an LMS is a growing trend, and we wanted our clients to have a fast, easy way to create eLearning content for their learners within the eSSential platform," says Olney.
Beyond a seamless integration with the eSSential LMS, eLogic Learning is offering a complimentary Claro software license to qualifying new eSSential LMS clients. eLogic Learning selected dominKnow's Claro as its authoring software partner out of hundreds of providers because of its innovative technology and strong standing in the industry.
"We chose to partner with dominKnow not only because the technology they offer is top of its class, but because they have an excellent reputation in customer service and support as well," comments Olney.
Key benefits of Claro:

Easy to use authoring experience
Enables one or more people to develop content for their team
Built-in tools for managing feedback and revisions
Designed to support mobile learning
Ability to share and reuse items (graphics, glossary terms, themes, styles, learning objects etc.) within a course or across many
Ready-made eLearning and mLearning templates so even a non-designer can create visually appealing new courses fast
By integrating the eSSential LMS with Claro, LMS administrators will be able to create, edit, distribute and track their eLearning content without ever leaving the LMS. In addition to a complimentary license for Claro, qualified new eSSential LMS clients will receive a custom developed eLearning course and a bundle of over 120 3rd party courses to choose from free of charge. More information about this new offer called eSSential Plus can be found on eLogic's website at http://elogiclearning.com/essential-lms/essential-plus/.
About dominKnow
For more than a decade dominKnow Learning Systems has been creating eLearning and mLearning software for small teams and large organizations. dominKnow's flagship product, Claro, is an award winning web-based authoring platform that lets users collaborate on development, share resources, and engage an unlimited number of reviewers. Claro is 100% HTML5-compliant, so teams can easily create online, offline and mobile learning as part of their natural workflow — no add-ons or special configurations necessary.
For more information, visit http://www.dominknow.com
About eLogic Learning
A leader in the eLearning industry, eLogic Learning offers organizations comprehensive learning technology and content solutions that save costs and increase productivity. The eLogic eSSential LMS supports over five million monthly users and was named a Top 5 LMS by E-Learning 24/7 and Top 20 by Capterra in 2014. The eSSential LMS makes it easy to manage eLearning, instructor-led and virtual training events, keep up with regulatory compliance requirements, analyze training usage and results, sell courses online with robust ecommerce features, and much more.
In addition to its Learning Management System, eLogic develops custom eLearning content and provides an extensive third-party courseware library. With a comprehensive turnkey approach to implementing learning strategies, eLogic offers professional services and proven expertise in content strategy, business process change and the development of corporate training programs.
For more information, visit elogiclearning.com.