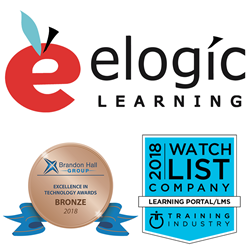 These awards help keep us on track – they don't make us complacent and motivate us to pursue our eLogic core value of continuous improvement so that we make the cut again next year.
TAMPA, Fla. (PRWEB) December 18, 2018
eLogic Learning, with decades of experience in the elearning industry, has ranked high in many categories for many years when awards seasons come around. The awards recognize eLogic's achievements with their learning management system: eSSential LMS. This quarter is no different. eLogic has received the following awards:
Best of Elearning! Enterprise LMS: Elearning! magazine receives thousands of nominations across 23 categories to determine the annual best-in-class elearning solutions. After 14 years, they have become the gold standard in recognizing the innovators and top solutions in elearning for the sake of helping buyers make decisions. An enterprise LMS solution is one that permits extended reach to multiple locations, as well as clients, vendors, and partners. eLogic Learning was named as one of three finalists in this category.
Top NextGen Learning System: Craig Weiss is an elearning industry analyst named as one of the most influential people in elearning. Every year, he names LMSs' on multiple rankings, including overall #1 LMS (eLogic's ranking for 2017 and 2018) in his Top 50 report, as well as a NextGen learning system grid, which evaluates learning management systems for their abilities to meet NextGen, future-driven functionality in their software. eLogic Learning was named one of the top six leaders for the following reasons:

First solution to allow each learner to have their own theme
Great learning management system
Great mobile functionality with a native app
Learning Award System Winner 2019: Craig Weiss also names the top LMSs' in various categories every year. We're proud that eSSential LMS is recognized Best LMS for Extended Enterprise once again. It was also named the #1 LMS for Retail. Weiss cited the following reasons:

Unlimited tenants at no additional charge
Robust ecommerce platform
Extensive roadmap planned
Training Industry Top LMS Companies Watchlist: Training Industry monitors the elearning market and provides industry news and keeps track of the best solutions out there. Their 2018 Top LMS Companies watchlist says they weighed factors like:

Quality of learning portal/LMS user and administrative features
Industry visibility, innovation and impact
Number and strength of clients
Geographic reach
Company size and growth potential
eLogic Learning made the watchlist out of all the companies that applied.
Brandon Hall Excellence Awards: Best Advance in Learning Management Technology: Brandon Hall Group is a leading research and analyst firm on topics related to Learning and Development, Talent Management, and other workplace issues. Their excellence awards every year acknowledge advancements in technology at companies around the world, and only 20% of entrants receive an award.
This year, eLogic Learning received a bronze award for Best Advance in Learning Management Technology for "The Leveling Up Approach to Training", a gamification program that we helped one of our clients implement.
Mark Anderson, CEO of eLogic Learning, said of the awards: "We're so grateful our industry has many independent organizations on the lookout for the best solutions on the market for buyers. We target and innovate to be a world-class provider every year and it's an honor to be recognized by these organizations. These awards help keep us on track – they don't make us complacent and motivate us to pursue our eLogic core value of continuous improvement so that we make the cut again next year."
About eLogic Learning
A leader in the eLearning industry, eLogic Learning offers organizations world class, comprehensive LMS technology and content solutions that increase efficiency and productivity with a measurable ROI. The eLogic eSSential LMS supports over five million monthly users and was named in 2018 the #1 LMS by The Craig Weiss Group, the #1 All-Purpose Extended Enterprise LMS by Talented Learning, and earned the Silver Award for Best Advance in Learning Management Technology for Compliance Training from Brandon Hall as well as many other accolades. The eSSential LMS makes it easy to manage eLearning, instructor-led and virtual training events, keep up with regulatory compliance requirements, analyze training usage and results, sell courses online with robust ecommerce features, and much more.
In addition to its Learning Management System, eLogic develops custom eLearning content and provides an extensive third-party courseware library. With a comprehensive turnkey approach to implementing learning strategies, eLogic offers professional services and proven expertise in content strategy, business process changes, and the development of corporate training programs.