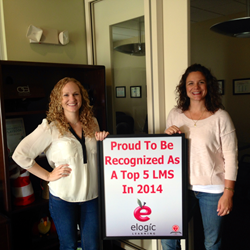 We see the new additions to our customer support and marketing teams as a sign of eLogic's continued growth and commitment to customer excellence.
Tampa, FL (PRWEB) April 15, 2014
eLogic Learning (eLogic), an award-winning provider of Learning Management Systems (LMS) and content development solutions, is pleased to announce two new members have joined the company, Tommi DeMasi and Emily Gowan. DeMasi has been appointed QA and Support Analyst as part of eLogic's Customer Support Team. Gowan has joined the company as Marketing Coordinator to support eLogic's digital and traditional marketing initiatives.
DeMasi joins eLogic after an eight year career with Bloomin' Brands, Inc. (BBI). She brings extensive knowledge of training, communications and human resources information systems to eLogic. "I have worked closely with eLogic since 2007 when we implemented the eSSential LMS at BBI. Every member of the eLogic team always put our needs first and treated us like family. After being an eSSential LMS Administrator and end-user for several years, I look forward to applying my expertise to the other side of the system and ensuring the utmost quality and service for eLogic's clients," says DeMasi.
Gowan joins eLogic after graduating from the University of Tampa with her M.S. Marketing degree. While completing her master's program, Gowan specialized in digital marketing through internships and special projects. She comments, "I am excited for this new challenge and to grow professionally in the dynamic e-Learning industry. I feel fortunate to work for a company that truly stands behind its products and goes above and beyond for the customer."
eLogic CEO Mark Anderson says, "We see the new additions to our customer support and marketing teams as a sign of eLogic's continued growth and commitment to customer excellence. I am confident that Tommi and Emily's combined experience and skills will ultimately help us better serve our clients and strengthen our relationships. We are honored to welcome them to our team."
About eLogic Learning:
eLogic Learning, headquartered in Tampa, Florida, is an award-winning industry leader in web-based Learning Management Systems and corporate training products and services. Currently, there are millions of licensed users of "eSSential," eLogic's LMS. Clients include Bloomin' Brands, Inc. (parent of Outback Steakhouse, Bonefish Grill, etc.), Primerica, Sage Software, Vitera Healthcare, Cobb Energy, MetLife, Massage Envy and many others. The eSSential Platform has been independently reviewed by the ADL to be SCORM-certified and a Tin Can Partner, ensuring their clients benefit from all SCORM functionality. eLogic Learning is a Microsoft Certified Partner and ISV.
In addition to its Learning Management System, eLogic Learning develops custom e-Learning content and courses as well as providing an extensive third-party courseware library. eLogic Learning also offers professional services in content strategy and business process change in the development of corporate training programs. eLogic Learning offers its clients a comprehensive turnkey approach to implementing learning strategies.