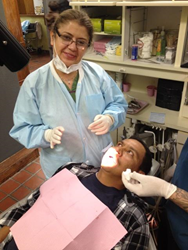 We helped over 250 patients improve their dental health.
El Paso, TX (PRWEB) March 10, 2014
El Paso TX dentist Dr. Mehrnoosh Darj helped residents of El Paso and Socorro during this difficult economic period by giving 3 days of no cost emergency dental treatments on February 21, 22 and 28, 2014.
The first date was Friday February 21st from 8am to 3pm at 10760 North Loop Drive Ste A3, Socorro, TX 79927.
The second date was Saturday February 22nd from 8am to 3pm at 1861 Robert Wynn Street Suite D, El Paso, TX 79936.
The third date was Friday February 28th from 8am to 3pm at 211 Texas Ave, El Paso, TX 79901.
The Emergency Dental Treatment Days were designed to treat anyone (adult or child) for free who has a dental emergency and who cannot afford dental care on a first-come-first-served basis.
Dr. Darj noted that many people have lost their dental coverage due to the bad economy and are having to forgo dental care, which put them in danger of tooth decay and gum disease that contributes to problems associated with diabetes, liver and heart problems.
"A total of about 250 patients showed up during our 3 free dental treatment days and we were able to treat them with various procedures ranging from dental fillings to extractions and cleanings" said Dr. Darj, dentist in El Paso. "We gave more than $38 000 in free dentistry".
In addition to free dental days, Dr Darj has also held numerous community events including food drives, and also Do A Good Deed contests which inspired youths to focus on performing good deeds. On January 29th Dr. Darj donated $5178 and food to El Pasoans Fighting Hunger. The money and food donations were collected during her last event – a Holiday Food Drive, which ended on Jan 1st 2014.
"I would like to do my part as a dentist to help and hope other healthcare providers would join me and organize a similar effort in their community to help keep our fellow Americans healthy." explained Dr. Darj.
Dr. Darj added, "We will be conducting similar community events in El Paso periodically throughout the year to help the less fortunate in our community."
Details of Dr. Darj's other community events can be found online at http://dentistryelpasotx.com/index.php/category/el-paso-dentist-community-involvements/.