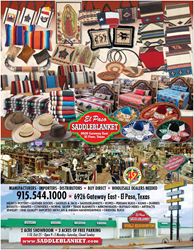 "We will be concentrating on wholesale products that are our own designs and liquidating the rest"
El Paso, Texas (PRWEB) June 06, 2015
Company President Luc Henson Wells announced that the two acre El Paso Saddleblanket Outlet Store at 6926 Gateway East across from the Cielo Vista Mall in central El Paso, will close to the general public on July 31st. All future sales to individuals will be limited to ordering from the new larger online catalog at http://www.Saddleblanket.com. The four acre property, the non-wholesale catalog inventory and fixtures will be sold off with deep discounts starting immediately. The wholesale showroom and warehouse will re-locate to the larger EXPO building next door on the current El Paso Saddleblanket property. Beginning August 1st admission to the 'Wholesale-Only' facility will be limited to resellers who are able to show a business license, a state sales tax permit, and proof of business. For more information on becoming a wholesale dealer go to http://www.ElPasoSaddleblanket.com
Owner and founder Dusty Henson stated that the real growth is in wholesale import-export sales which now accounts for about 80% of the overall business. "We will be concentrating on products that are our own designs. Purses, fashion jewelry, saddles, baskets, artifacts, pottery, leather goods, and cowboy caskets will remain a staple of our wholesale catalog. To be discontinued and liquidated will be oriental rugs, southwest furniture, silver turquoise jewelry, Mexican antiques, folk art, Mexico hand-painted pottery and unique one-of-a-kind items."
The company plans to expand and increase wholesale dealing by utilizing a new state-of-the-art textile design department, an in house call center, and order fulfillment facility which will require some additional warehouses. "At one time Saddleblanket was mostly oriented to the equestrian, western store, trading post industry," Henson stated "Today an expanding part of our customer base is fashion boutiques, online vendors, and international sales."
El Paso Saddleblanket has been in business since 1970, when Dusty Henson began with six weavers in Juarez, Mexico producing wool saddleblankets for the equestrian trade. It was founded on Dusty and Bonnie Henson's vision of selling quality merchandise at honest direct low wholesale prices. The public is advised that this will be the last chance shop at the world's largest southwest trading post. For more information go to http://www.Saddleblanket.com