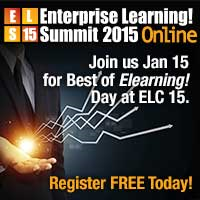 "Because collaboration, engagement and personalization are crucial to driving successful business performance, we know this event's content and Learning! 100 award-winning speaker lineup will provide attendees with a unique learning experience."
Corona, CA (PRWEB) December 03, 2014
ELearning! Media Group will hold its first virtual event of 2015 on January 15, the Enterprise Learning! Summit 2015 Online. Part of its session lineup will include best practices from Scripps Health, a four-time Learning! 100 winner. The Enterprise Learning! Summit Online platform provides a unique, no-cost environment for qualified industry professionals, where attendees can interact with industry experts and event speakers and see products in live action.
Veronica Zaman, Vice President, HR & Learning at Scripps Health, headlines the virtual event. As an industry faced with unprecedented national change, Zaman will share insights on Scripps Health's learning culture, which embraces team members as well as patients; its CEO/Learning Leader Connection; and how the company has recruited, developed and retained talent where annual industry churn is 57%.
The Enterprise Learning! Summit is a Best of ELearning! one-day showcase with three live sessions available only on the event day, January 15, and three other sessions from the Best of ELearning! The first hour-long, live session begins at 11:30 a.m. (PST) and includes Best of Elearning! demos featuring some of 2014's Best of Elearning! winners. Best-in-class product leaders will demo solutions for attendees sourcing next-generation tools for mobile, virtual, authoring or learning platforms. The second live event, from 3 to 3:45 p.m. (PST), will feature additional demonstrations by Learning! 100 product leaders. The third live event begins at 4 p.m. and features the Best of Elearning! Awards presentation. Speakers Catherine Upton and Jerry Roche of the Elearning! Media Group will reveal best-in-class solutions across 26 categories from learning platforms, HR technology, training content, and services and development tools.
The other three sessions will be available not only during the live event, but also on demand at the ELearning! website. The first session of the Online Summit, beginning at 10:30 a.m., features Best Practices from the Learning! 100: Scripps Health. Beginning at 12:30 p.m., the session titled Best Practices: Engaging Employees will include real-life case studies allowing attendees to discover strategies to improve employee engagement and drive business performance. At 2 p.m., Speaker David Coleman of Collaborative Strategies will headline the session titled First Look: Enterprise Collaboration in Learning Research. In this session, Coleman will topline results from the 2015 Enterprise Collaboration Research co-produced with Elearning! magazine.
"As our Learning! 100 Award-winners have demonstrated that changing the way they invest in learning is key to improving, changing and driving business performance, we at Elearning! are pleased to share their knowledge and their best practices with our industry colleagues with a full day of the Best of Elearning!," says Upton, who is group publisher. "Because collaboration, engagement and personalization are crucial to driving successful business performance, we know this event's content and Learning! 100 award-winning speaker lineup will provide attendees with a unique learning experience."
Enterprise Learning! Summit 2015 Online registration is now open at http://engage.vevent.com/index.jsp?eid=630&seid=2492. Registration is complimentary for practitioners in the training, talent, e-learning, workforce, human resources or executive management. Vendors or suppliers do not qualify.
About Elearning! Media Group
Elearning! and Government Elearning! magazines, e-magazines, e-newsletters, Alerts, websites and Summits are produced by B2B Media Company, LLC. Elearning! magazine is one in a family of 12 media products serving the $220 billion enterprise learning market. In combination, these brands reach up to 2 million executives and professionals who plan, evaluate and deploy enterprise-wide learning solutions across their organizations each year. To learn more, visit: http://www.2elearning.com.
Enterprise Learning! Events
In their seventh year, Enterprise Learning! events bring onsite and online live audiences together to learn, network and share. Enterprise Learning! Summit 2014 hosted industry thought leaders, analysts and up to nine sessions, on March 20th, 2014. Watch these sessions on demand at http://www.2elearning.com.