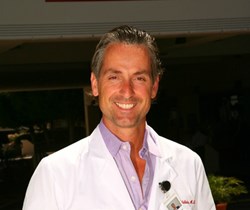 We are honored to be recognized by Inc. Magazine as one of the fastest growing companies in America.
Los Angeles, California (PRWEB) January 30, 2014
Dr. Mark Bell, Manhattan Beach physician and president of Emergent Medical Associates (EMA), recently announced that EMA earned a spot on the prestigious Inc. 5000 list for the fourth consecutive year as one of the fastest growing private companies in the United States.
In a year marked by significant upheaval to healthcare and challenging economic times, Emergent Medical Associates was able to attain a ranking of #4518.
This year's list measures revenue growth from 2009 through 2012. To qualify, companies must have been founded and generating revenue by March 31, 2009. Additionally, they had to be U.S.-based, privately held, for profit, and independent--not subsidiaries or divisions of other companies-as of December 31, 2012. The minimum revenue required for 2009 is $100,000; the minimum for 2012 is $2 million. Revenue figures given in the company profiles are for calendar year 2012.
Emergent Medical Associates (EMA) delivers health care management to 22 healthcare facilities in Southern California, caring for 650,000 patients annually. The company's mission is to be the provider of choice for patients, the group of choice for providers and the partner of choice for hospitals. EMA's value proposition integrates a set of management techniques combining clinical excellence, objective performance measurement, senior on-site leadership and a true partnership approach targeted towards creating "Emergency Departments of Excellence."
"We are honored to be recognized by Inc. Magazine as one of the fastest growing companies in America," said Mark Bell, "and we look forward to continuing to deliver superior patient care and supporting our hospital partners and health care providers throughout Southern California with outstanding value and operational excellence."
Dr. Mark Bell has been a managing partner in EMA since 1998. Having led the start-up and management of 9 of EMA sites, he has developed a unique skill set centered on creating department efficiencies and managing the critical role emergency departments serve in driving hospital profit. He is currently the Director of Emergency Services at Sherman Oaks Hospital, Valley Presbyterian Hospital, Huntington Beach Hospital and Alvarado Medical Center.
Dr. Mark Bell developed the EMA administrative residency program which prepares EMA physicians for administrative roles. His expertise covers customer service, strategic planning, business development, and community service. Dr. Bell is an active physician, hospital advocate, and represents his colleagues in issues on a regional and national level.