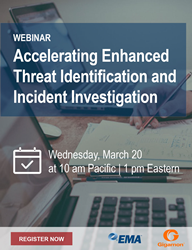 BOULDER, Colo. (PRWEB) March 12, 2019
Enterprise Management Associates (EMA), a leading IT and data management research and consulting firm, today announced it will host a webinar titled "Accelerating Enhanced Threat Identification and Incident Investigation," featuring David Monahan, managing research director of security and risk management at EMA, and Stephen Hinck, product manager for Gigamon Insight.
In January 2019, EMA released its "Security Analytics for Threat Detection and Breach Resolution in 2019: EMA Top 3 Report and Decision Guide." The research that was conducted for this guide revealed that only 28 percent of organizations have alerting systems with enough context to provide highly accurate incident classification, thus requiring manual verification and reclassification of 95 percent of most organizations' incidents. In addition, 48 percent of organizations had a security incident that caused moderate to severe business impact. Undoubtedly, delays in identifying threats and the lack of information that extends the length of incident investigations cause real business problems.
Leveraging research from this new guide and the expertise of Monahan and Hinck, this webinar will explain how security teams can obtain greater context for decision-making to solve these real-world problems faster, as well as

The methodology behind the decision guide
What to watch for in selecting a security analytics solution
How to identify threats faster, thus reducing dwell time
How threat actors exploit Internet presence within the context of business and security management tools, issues, and practices
How access to a broad array of network data reduces the attack surface
The webinar is Wednesday, March 20 at 1:00 p.m. Eastern. More information and registration is available at http://info.enterprisemanagement.com/threat-id-and-incident-investigation-webinar-pr
About Enterprise Management Associates (EMA)
Founded in 1996, EMA is a leading industry analyst firm that specializes in providing deep insight across the full spectrum of IT and data management technologies. EMA analysts leverage a unique combination of practical experience, insight into industry best practices, and in-depth knowledge of current and planned vendor solutions to help clients achieve their goals. Learn more about EMA research, analysis, and consulting services for enterprise line of business users, IT professionals and IT vendors at http://www.enterprisemanagement.com.