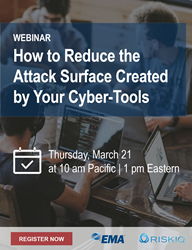 BOULDER, Colo. (PRWEB) March 13, 2019
Enterprise Management Associates (EMA), a leading IT and data management research and consulting firm, today announced it will host a webinar titled "How to Reduce the Attack Surface Created by Your Cyber-Tools," featuring David Monahan, managing research director of security and risk management at EMA, and Benjamin Powell, technical marketing manager at RiskIQ.
Today, being connected online is a foundational aspect of many businesses. Everything from our computers and cars to phones and refrigerators are connected in the race to digital transformation. But it comes with a cost. Each connection we make provides access to our business services. That access can be used for the intended business process or for a malicious purpose. In fact, enterprises face 130,000 vulnerabilities to patch per month! That's 10 new vulnerabilities per system per month.
Undoubtedly, every device and application increases the cyber-attack surface. Even the very tools purchased for the intent of monitoring and securing environments increase the opportunity for threat actors to compromise systems and steal data.
During this webinar, Monahan and Powell will discuss how our digital presence can be used against us and provide insights into:

How to get an accurate picture of our attack surface
How threat actors exploit our Internet presence within the context of business and security management tools, issues, and practices
How to reduce the risk of an attack
The webinar is Thursday, March 21 at 1:00 p.m. Eastern. Registration is available at http://info.enterprisemanagement.com/how-to-reduce-the-attack-surface-created-by-your-cyber-tools-webinar-pr
About EMA
Founded in 1996, EMA is a leading industry analyst firm that specializes in providing deep insight across the full spectrum of IT and data management technologies. EMA analysts leverage a unique combination of practical experience, insight into industry best practices and in-depth knowledge of current and planned vendor solutions to help their clients achieve their goals. Learn more about EMA research, analysis and consulting services for enterprise line of business users, IT professionals and IT vendors at http://www.enterprisemanagement.com.