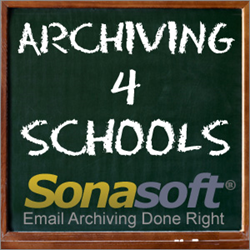 Sonasoft offers school districts content monitoring and other enterprise-class eDiscovery tools.
San Jose, California (PRWEB) June 30, 2015
Sonasoft Corp. (OTCPK: SSFT), a leader in enterprise-class email archiving and eDiscovery software solutions, launched a no-cost promotion on its eDiscovery and email archiving software with purchase of a one-year maintenance contract and professional installation. U.S. and Canadian school districts can evaluate and test Sonasoft's email archiving and eDiscovery software at no risk during the summer months when email volume tends to be low. Once school district administrators recognize the value added by Sonasoft's email archiving and eDiscovery software, then they can lock in their discount provided that they attained a quote on or before September 30, 2015, which is when this offer ends.
"School districts always have been a key customer base," said Neil Khanna, Vice President of Client Services and Operations. "School districts need real bang for the dollars spent. Their email systems are taxed, and they have to make every dollar count. It is under these circumstances that makes Sonasoft's solution a good fit. Sonasoft email archiving can offload a Microsoft Exchange Server and reduce its file size by up to 80 percent. This allows the mission critical Exchange Server to be kept at an optimal storage size; one that is easy to make backups and perform maintenance."
"School districts also appreciate Sonasoft's enterprise-class eDiscovery tools," continued Khanna. "An admin can pull all the related records from complex searches in just minutes regardless of the size of the archive. Our export feature allows these emails to be exported in a variety of formats, which helps exceed a variety of compliance requirements. Sonasoft's content identification and review management also allows admins instantly to be notified if there are any questionable terms or phrases being sent within the email, such as Social Security numbers or inappropriate content."
"Most of all," said Neil Khanna, "School districts, as well as all our customers, appreciate our always-there-for-you tech support. We gladly will assist our potential customers to install our email archiving and eDiscovery solutions, so that they can evaluate the value and performance at no risk. We stand behind our products."
More details about Sonasoft's No-cost Email Archiving and eDiscovery Software Promotion for school districts:
http://www.sonasoft.com/products/email-archiving-promotions/free-email-archiving-schools/
To obtain a no-obligation professional evaluation and learn more about SonaVault Email Archiving and eDiscovery Solutions:
http://www.sonasoft.com/products/sonavault-email-archiving-software/
About Sonasoft
Sonasoft Corporation is a publicly traded and is listed on the OTC Markets with the trading symbol SSFT. Sonasoft's core business model includes enterprise-class email archiving, eDiscovery, and business continuity software solutions for Microsoft Business Applications on Microsoft Windows platforms. Sonasoft's signature products for eDiscovery tools, which include SonaVault Email Archiving and eDiscovery Software as well as SonaVault Email Archiving Appliances, deliver affordable enterprise-level functionality that exceeds compliance and ease-of-use requirements of small and medium-sized businesses, governments, school districts, organizations, and enterprises. Sonasoft recently expanded its product offering to include email archiving in the cloud as well as data export and migration services for competing archiving solutions. Sonasoft email archiving and eDiscovery solutions have hundreds of deployments with an exceptional degree of high customer satisfaction. Founded in 2003, the company is headquartered in San Jose, California.
For more information about Sonasoft's email archiving solutions and business continuity software, contact:
Douglas MacKallor
Sales and Marketing for Sonasoft Corporation
Direct: (408) 708-4000
Source: http://www.sonasoft.com
# # #
Forward-looking Statements
This release contains statements that constitute forward-looking statements. These statements appear in a number of places in this release and include all statements that are not statements of historical fact regarding the intent, belief or current expectations of the Company, its directors or its officers with respect to, among other things: (i) the Company's financing plans; (ii) trends affecting the Company's financial condition or results of operations; (iii) the Company's growth strategy and operating strategy; and (iv) the declaration and payment of dividends. The words "may," "would," "will," "expect," "estimate," "anticipate," "believe," "intend," and similar expressions and variations thereof are intended to identify forward-looking statements. Investors are cautioned that any such forward-looking statements are not guarantees of future performance and involve risks and uncertainties, many of which are beyond the Company's ability to control, and that actual results may differ materially from those projected in the forward-looking statements as a result of various factors.