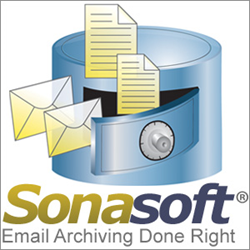 There is a huge need in the financial sector for the email archiving and eDiscovery solutions that Sonasoft brings.
San Jose, California (PRWEB) April 15, 2015
Sonasoft Corp. (OTCPK: SSFT), a leader in enterprise-class email archiving and eDiscovery solutions, announced that it has retained senior IT and sales veteran, James McDonald, to be its sales representative, with the goal to increase its market share of email archiving and eDiscovery solutions with regional banks and credit unions. Mr. McDonald brings over forty years of experience in the IT sector where he worked with such industry leaders as IBM, NCR, BancTec, and Advanced Computer Systems, where he designed, implemented, and managed software implementations and lead sales. The majority of Mr. McDonald's IT and sales experience has been with financial institutions, and he brings expertise in such mission critical banking software solutions such as Core Accounting Systems (CAS), proof of deposit, imaging, networking, migrations, software compliance, etc.
"Sonasoft could not have found a better person to be our Account Representative for Regional Banks and Credit Unions", said Andy Khanna, President and CEO of Sonasoft. "Mr. McDonald is one of those rare, talented professionals that not only knows the nuts and bolts of technology, but also has the persuasion skills to convey the bottom line value Sonasoft's email archiving and eDiscovery solutions bring to the financial sector. We have full confidence that Mr. McDonald will help take Sonasoft to the next level."
"This is the right time to enter the email archiving and eDiscovery field", said James McDonald, Sonasoft's Regional Representative for Banks and Credit Unions. "There is a huge need in the financial sector for the solutions that Sonasoft brings. Its email archiving and eDiscovery software is enterprise-class and feature rich. It brings tremendous value at a price point that most competitors cannot match. Finally, as someone who has a background with customer satisfaction, end-user experience, and software implementation, I cannot stress enough the true value that tech support brings. Sonasoft has a history of excelling in customer satisfaction with its always-there-for-you support. I look forward to being a part of Sonasoft's success with regional banks and credit unions."
For a case study about Sonasoft's eDiscovery and email archiving solutions for banks and credit unions:
http://www.sonasoft.com/ediscovery-solution-for-banks/
To obtain a no-obligation professional evaluation and learn more about SonaVault Email Archiving and eDiscovery Solutions:
http://www.sonasoft.com/products/sonavault-email-archiving-software/
About Sonasoft
Sonasoft Corporation is a publicly traded company and listed on the OTC Markets with the trading symbol SSFT. Sonasoft's core business model includes enterprise-class email archiving, eDiscovery, and business continuity software solutions for Microsoft Business Applications on Microsoft Windows platforms. Sonasoft's signature products for eDiscovery tools, which include SonaVault Email Archiving and eDiscovery Software as well as SonaVault Email Archiving Appliances, deliver affordable enterprise-level functionality that exceeds compliance and ease-of-use requirements of small and medium-sized businesses, governments, school districts, organizations, and enterprises. Sonasoft recently expanded its product offering to include email archiving in the cloud as well as data export and migration services for competing archiving solutions. Sonasoft email archiving and eDiscovery solutions have hundreds of deployments with an exceptional degree of high customer satisfaction. Founded in 2003, the company is headquartered in San Jose, California.
For more information about Sonasoft's email archiving solutions and business continuity software, contact:
Douglas MacKallor
Sales and Marketing for Sonasoft Corporation
Direct: (408) 708-4000
Source: http://www.sonasoft.com
# # #
Forward-looking Statements
This release contains statements that constitute forward-looking statements. These statements appear in a number of places in this release and include all statements that are not statements of historical fact regarding the intent, belief or current expectations of the Company, its directors or its officers with respect to, among other things: (i) the Company's financing plans; (ii) trends affecting the Company's financial condition or results of operations; (iii) the Company's growth strategy and operating strategy; and (iv) the declaration and payment of dividends. The words "may," "would," "will," "expect," "estimate," "anticipate," "believe," "intend," and similar expressions and variations thereof are intended to identify forward-looking statements. Investors are cautioned that any such forward-looking statements are not guarantees of future performance and involve risks and uncertainties, many of which are beyond the Company's ability to control, and that actual results may differ materially from those projected in the forward-looking statements as a result of various factors.