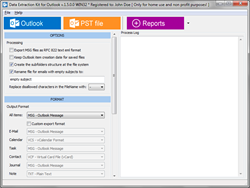 Sacramento, CA (PRWEB) September 24, 2014
GlexSoft, a company with a successful track record of developing fast, reliable and user-friendly data conversion tools, extends the functionality of its flagship product and releases Data Extraction Kit for Outlook.
The new product combines the best features and qualities of its predecessors and augments them with advanced forensic analysis functions for private detectives, data security specialists and other professionals investigating the causes of data leaks, theft of commercial secrets and other crimes. The program's interface has been seriously modified and all of its controls and settings have been fitted into a single window for quick and easy access. Data Extraction Kit for Outlook efficiently combines the functionality of a multi-purpose Outlook data converter and a convenient forensic Outlook data analysis tool.
Users searching for signs of computer crimes or corporate security policy violations in email correspondence can now generate detailed CVS reports containing comprehensive details of each item in a PST file or MS Outlook profile. These details include over 20 key message parameters that can be used in various combinations to locate a particular message of conversation. Once saved on the user's hard drive, these CSV reports can be loaded to Microsoft Excel or any other application for further processing. When the necessary email message is found, the user can instantly locate it in the original PST file and convert into a suitable format accepted by courts or relevant authorities.
Apart from useful forensic analysis functionality, Data Extraction Kit for Outlook offers plenty of opportunities for users looking to either migrate their entire email archive to another application and/or platform, or simply extract a particular set of items to the hard drive for archiving, processing or other purposes. The product currently supports a number of popular formats, including MSG, RTF, TXT, EML, TNEF, HTML, MHT, VCF, VCS, ICS, and allows users to unload items preserving the original folder structure, replacing unsupported characters and empty message subjects, and keeping the original item creation timestamp intact. All of this makes the program a truly universal and powerful tool in the hands of any professional seeking a single line in a vast array of thousands of emails.
"We are excited to release a completely new product that does not just convert data, like most of our programs, but offers extended functionality that takes it to an all-new professional level," explains Gordon L., Senior Product Manager at GlexSoft. "We strongly believe that the forensic analysis capabilities of Data Extraction Kit for Outlook will be equally popular with the email conversion features that our products are well-known for."
The program is available for 32- and 64-bit versions of Window, has a compact installation file and does not require any additional components to be installed. The demo version of Data Extraction Kit for Outlook is available free of charge on the official site of GlexSoft.