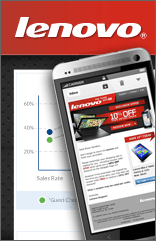 UpSellit has not only increased Lenovo's revenue, but has also proven to be a great partner to work with.
Westlake Village, CA (PRWEB) February 04, 2014
Today, UpSellit (http://www.UpSellit.com) announced the success of their custom checkout abandonment solution developed for PC innovator, Lenovo. By implementing a highly customized email remarketing program, UpSellit was able to recover leads from 27% of first-time visitors abandoning Lenovo's checkout process and deliver a 35% campaign conversion rate with personalized real-time emails.
Lenovo operates in nearly 160 countries around the world, selling the best in powerful, affordable, and innovative computing technologies. Critically distinguished as the "fastest-growing major PC company," Lenovo knows that success is born through constant effort, smart decision-making, and ongoing optimization. To continue growing their success, Lenovo sought to reduce their website's checkout abandonment rate by implementing a smart email remarketing system that would integrate with Lenovo's internal marketing efforts. UpSellit's technologies were perfectly suited for the task.
"Lenovo needed a solution that would re-engage their visitors who abandoned the checkout process," said Max Loewenthal, Director of Business Development at UpSellit. "By combining PreCapture®, our pre-submit lead recovery technology, with dynamically populated emails, we were able to create a highly effective campaign that delivers both increased conversions and profitability."
To recover abandoned conversions, UpSellit deployed their PreCapture® technology. The solution monitors specific form fields on the first page of checkout and collects leads without requiring a click of the "submit" button. With the recovered leads, UpSellit initiates a real-time email campaign that dispatches dynamically populated messages containing user details and shopping cart data in order to establish immediate relevance. PreCapture® uses an asynchronous 'last load' technique to collect leads, which left Lenovo's precisely tuned user experience entirely unchanged.
"UpSellit provided a very effective solution to Lenovo's cart abandonment needs," said Sajani Abraham, eCommerce Site Manager with Lenovo. "Their team designed and implemented a sophisticated email remarketing campaign in a matter of days and has continually worked with us to increase the campaign's performance. UpSellit has not only increased Lenovo's revenue, but has also proven to be a great partner to work with."
The results began to surface immediately and were overwhelmingly positive. Throughout the campaign, UpSellit's PreCapture® was able to recover leads from 27% of new consumers who abandoned checkout pages. With these recovered leads, UpSellit was able to remarket to a previously untapped audience with significant success. The personalized emails had an average open rate of 44% and a staggeringly high campaign conversion rate of 35%. To learn more about the methods used during the campaign and for a more detailed look at the results, be sure to read Lenovo's full email remarketing case study.
About UpSellit:
UpSellit provides ecommerce and lead generation businesses with 100% pay-for-performance site abandonment solutions. UpSellit increases conversions up to 25% with customized email, automated chat and promotional technologies that address specific concerns to recover abandoned consumers. Every campaign is a full-service solution with ongoing optimization and support at no additional charge. For more information on UpSellit's industry-leading analytics and customer recovery strategies, call 1 (866) 504-9619 or write us at info(at)upsellit(dot)com.