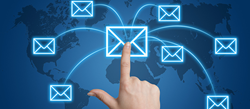 We make email simple
Garden City, NY (PRWEB) June 28, 2016
With reveal of their new website, Softmailinc.com, they have decided to share 7 tips for pulling off an effective email campaign.
Attached to the website's accompanying blog, the article walks readers through important tips and tactics that will help with executing an efficient email marketing campaign and overcome the hardships that come along with it. Without giving too much away, the article details how to capture your audience's attention as well as how to avoid having your emails sent straight to the spam filter.
Some other tips involve using calls to action to concisely let your audience know what it is you require from them and what times are best to send or not send out emails to increase readership. These tips among others will provide anyone looking to executive an email marketing campaign something to keep in mind when developing strategies.
In addition to the Softmail blog, softmailinc.com also provides information on their email marketing software which allows users to create messages, manage and upload lists of recipients, and report your results. By sharing these 7 tips Softmail's goal is that users will apply them to future campaigns utilizing their software.
Softmail founder J Ronald Nazaire spoke on the importance of an effective email marketing campaign in today's digital age. "Believe it or not email marketing is still one of the best ways to engage and excite your audience but with new marketing techniques entering the fray, it's more important than ever to think outside of the box. At Softmail, we're not just about providing clients with a platform but also the insight to use it to its fullest potential."
In addition to their newly designed website and blog, users can also learn more about Softmail's services, and tips and tricks to pulling off email campaigns by following them on various social media channels including Facebook, LinkedIn, Google+, and Twitter.
Softmail provides our online web based email marketing software to reach your target audience and build customer relationships. Email marketing is for every small business and should be part of the marketing mix. Softmail has a large database of opt in emails for you to select from, and to market to. We offer our easy to use Email Marketing Software as part of our small business marketing packages.