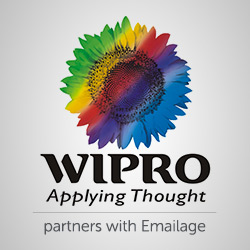 We look forward to working with Wipro to make our award winning solution available throughout their vast network of customers
Phoenix, AZ (PRWEB) March 15, 2016
Emailage, a fast growing risk assessment and fraud prevention solution company that uses email address as the key element, today announced that Wipro Limited (NYSE:WIT, BSE: 507685, NSE: WIPRO) has made a strategic investment and signed a partnership with Emailage. This is in line with Wipro's strategy to participate in the external innovation ecosystem, for which the company has set up Wipro Ventures.
Emailage and Wipro will offer compliance, risk assessment and fraud prevention solutions, across industry sectors. The partnership will enable enterprises to process financial transactions faster, prevent fraud effectively, and protect their bottom lines.
Emailage has developed and patented a unique Fraud Risk Assessment Service solution, which prevents fraud and streamlines approvals for financial transactions for Fortune 500 companies and organizations around the world. Based on the feedback from clients on whether transactions are legitimate or fraudulent, the solution utilizes a vast amount of positive and negative transactional information related to email, in conjunction with machine learning algorithms and a network of data from global customers and strategic data partners, to automatically segment high risk transactions.
"We are very excited to work with Wipro and help organizations with risk assessment and fraud reduction," said Rei Carvalho, CEO Emailage. "We look forward to working with Wipro to make our award winning solution available throughout their vast network of customers".
"Emailage has built a very innovative and unique risk management solution," said Bhanumurthy B. M., President & Chief Operating Officer, Wipro Limited. "Its machine learning based approach to risk assessment is the future of fraud prevention. Wipro will work with Emailage to make transaction processing and fraud departments even more effective."
For more details on the Emailage and Wipro partnership, please visit the Emailage blog
About Emailage
The Emailage Risk Assessment Solution is an intelligent fraud prevention and risk assessment solution that identifies fraudsters and streamlines approvals. This enterprise solution utilizes patented machine learning algorithms and a network of risk intelligence data to analyze and automatically segment risky transactions. Put your emails to work with Emailage to assess risk quickly, prevent fraud globally, and increase revenue now.
For more information, please visit http://www.emailage.com
About Wipro Limited
Wipro Ltd. (NYSE:WIT) is a leading information technology, consulting and business process services company that delivers solutions to enable its clients do business better. Wipro delivers winning business outcomes through its deep industry experience and a 360 degree view of "Business through Technology." By combining digital strategy, customer centric design, advanced analytics and product engineering approach, Wipro helps its clients create successful and adaptive businesses. A company recognized globally for its comprehensive portfolio of services, strong commitment to sustainability and good corporate citizenship, Wipro has a dedicated workforce of over 160,000, serving clients in 175+ cities across 6 continents.
For more information, please visit http://www.wipro.com
Wipro Forward-looking and Cautionary Statements
Certain statements in this release concerning our future growth prospects are forward-looking statements, which involve a number of risks, and uncertainties that could cause actual results to differ materially from those in such forward-looking statements. The risks and uncertainties relating to these statements include, but are not limited to, risks and uncertainties regarding fluctuations in our earnings, revenue and profits, our ability to generate and manage growth, intense competition in IT services, our ability to maintain our cost advantage, wage increases in India, our ability to attract and retain highly skilled professionals, time and cost overruns on fixed-price, fixed-time frame contracts, client concentration, restrictions on immigration, our ability to manage our international operations, reduced demand for technology in our key focus areas, disruptions in telecommunication networks, our ability to successfully complete and integrate potential acquisitions, liability for damages on our service contracts, the success of the companies in which we make strategic investments, withdrawal of fiscal governmental incentives, political instability, war, legal restrictions on raising capital or acquiring companies outside India, unauthorized use of our intellectual property, and general economic conditions affecting our business and industry. Additional risks that could affect our future operating results are more fully described in our filings with the United States Securities and Exchange Commission. These filings are available at http://www.sec.gov. We may, from time to time, make additional written and oral forward-looking statements, including statements contained in the company's filings with the Securities and Exchange Commission and our reports to shareholders. We do not undertake to update any forward-looking statement that may be made from time to time by us or on our behalf.