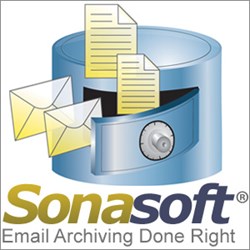 SonaVault Email Archiving and eDiscovery Solutions come with a genuine license of Microsoft SQL Server Standard Edition at no extra cost.
San Jose, CA (PRWEB) August 31, 2013
Sonasoft Corp., a leader in enterprise-class email archiving solutions and eDiscovery tools, has launched a new video that demonstrates the supremacy of Microsoft SQL Server that powers the databases in Sonasoft's SonaVault Email Archiving Software and eDiscovery Solutions. Sonasoft includes, at no extra cost, a genuine license of Microsoft SQL Server Standard Edition with its SonaVault Email Archiving and eDiscovery Software and Appliances. Sonasoft's video clearly shows the value added to its email archiving products that its competitors do not have. Competing solutions usually require its customers either to purchase a full license of Microsoft SQL Server or to use its proprietary database that lacks the robustness, stability, and features that the industry's standard, Microsoft SQL Server, provides.
"I can't stress enough the importance of using Microsoft SQL Server for an organization's email archiving and eDiscovery needs", said Mike Khanna, Head of Sales for Sonasoft. "Since our email archiving solutions includes a genuine license of Microsoft SQL Server Standard Edition, our end users can split up the database automatically. Admins can create new data stores just by entering some simple criteria of time or file size, and voila, new data stores in the email archive database are generated, on schedule. Breaking up the database into manageable sections allows searches to be lightning fast. Whereas proprietary databases usually search the whole collective-lump of a database synchronously, SonaVault Email Archiving Software searches all these smaller, nimble data stores simultaneously. This eliminates the lethargic response other competing email archiving solutions have after a few years of collecting data or adding more mailboxes. Another feature that Microsoft SQL Server Standard Edition allows our eDiscovery tools to do is return an unlimited amount of search results. One competing email archiving solution confines the search to just 5,000 results. Then, the admin has to repeat the search again like a hungry chicken pecking away on the keyboard, all day and night. If someone has just 30 mailboxes, then 5,000 search results might be sufficient. But, with a couple hundred mailboxes over several years, a lackluster limit of 5,000 search results will cause an endless task of drudgery of repeating the same search, which can take several minutes each time."
"We chose to use Microsoft SQL Server to power our email archiving database for many reasons", said Bilal Ahmed, Sonasoft's CTO and Vice President of Engineering. "Microsoft SQL Server does a thorough job of indexing the whole email archive including the body, attachments, and stubs. It misses nothing that competing solutions often omit. This thoroughness from Microsoft SQL Server is very important when an eDiscovery issue arises. Also, Microsoft SQL Server lets our end users to search for sender and recipient simultaneously. It also allows for Boolean Searches as well as searches for odd characters. Microsoft SQL Server also saves the search criteria and makes it editable, which saves the admin the pain from entering the same information again if they just want to make a simple change to a search. Another benefit from using Microsoft SQL Server is that it is very easy and well supported to backup and replicate the database. Microsoft SQL Server, the industry standard, allows companies to safeguard their data and ensure a rapid recovery when needed."
To view the new video and obtain a no-cost professional evaluation and learn more about SonaVault Email Archiving Software and eDiscovery Tools:
http://www.sonasoft.com/products/sonavault-email-archiving-software/
About Sonasoft:
Sonasoft is celebrating its 10th Anniversary of creating enterprise-class email archiving, eDiscovery, and business continuity software solutions for Microsoft Business Applications on Microsoft Windows platforms. Sonasoft's signature products for eDiscovery tools encompassed in its email archiving products include, SonaVault Software and SonaVault Appliances, deliver affordable enterprise-level functionality that exceeds compliance and ease-of-use requirements of small and medium-sized businesses, governments, school districts, organizations, and enterprises. Sonasoft email archiving and eDiscovery solutions have 100's of deployments with an exceptional degree of high customer satisfaction. Founded in 2003, the company is headquartered in San Jose, California.
For a no-cost assessment regarding Sonasoft archiving products and services, contact:
Mike Khanna
Head of Sales, Sonasoft Corporation
Direct - (408) 708-4000 x7104
Mobile - (408) 893-8210
Source: http://www.sonasoft.com