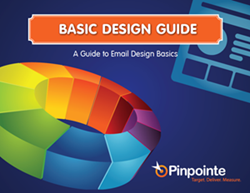 I particularly found the section about color intriguing. I had no idea how much color can impact the recipient's response. Good stuff! Thanks for providing yet another awesome resource.
Santa Clara, CA (PRWEB) September 19, 2014
Pinpointe, a leading cloud-based email marketing company, announced today the release of an email marketing guide that explains the basic components of good email design. Covering everything from composition to color, the 8-page guide expands on how five key design components work – both by themselves and together – to create an complete and impactful email design. View Guide.
"To increase engagement, well-written email content needs to be partnered with effective email design," stated Eryn Branham, Pinpointe's Content Marketing Manager. "With a better understanding of the core graphic elements that go into designing an email campaign, you can increase your chances of conversion."
Download your free guide: A Guide To Email Design Basics
About Pinpointe
Pinpointe is a top-rated email marketing provider by TopTenREVIEWS. Intuitive and flexible, Pinpointe is ideal for customers who need more than email marketing, but aren't ready for the complexity of marketing automation.
To experience Pinpointe for free, call (800) 920-7227 or visit us on the web for a full feature, one month trial.