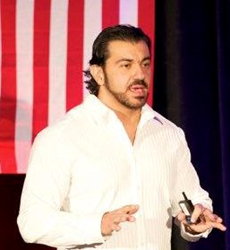 One of the most important keys to successful email marketing for trainers is to earn your sales pitches
Chino Hills, CA (PRWEB) May 29, 2014
Bedros Keuilian first made a name for himself as a fitness entrepreneur when his Fit Body Boot Camps became a global franchise. He then became a huge success as a fitness marketing consultant to celebrity trainers and other fitness professionals. He has always been a staunch advocate of using email as a marketing tool, but in a recent video on email marketing for personal trainers, he shares the biggest mistake he sees in other trainers' email campaigns.
"Personal trainers and fitness boot camp owners have caught on to the incredible value of using email as a marketing tool, but I consistently see some of the same mistakes being made – mistakes that can absolutely kill a trainer's business," says Keuilian.
One of the most common mistakes is also his biggest pet peeve; trainers whose only emails are sales pitches. "I subscribe to a lot of email lists for personal trainers and one of the worst things these people can do is only email their clients and prospects when they want to sell something," adds Keuilian.
Keuilian explains that email marketing for personal trainers must first create trust and credibility and then provide real value. "Once a trainer establishes credibility and trust by offering excellent information, they can start selling," says Keuilian. "But first they have to establish themselves as a local expert and a real authority. A lot of that can be done via email, by offering excellent tips, sharing the latest research and showing that they know their stuff and care about their clients."
Keuilian says that once personal trainers have established that credibility and authority, they need to use sales pitches sparingly or risk losing not only their potential clients but the clients they already have.
"One of the most important keys to successful email marketing for trainers is to earn your sales pitches," says Keuilian. "For every ten or twelve information-packed, truly valuable pieces of email you send, you get one email sales pitch. This will keep you from chasing your customers away and coming across as a car salesman."
He adds that even then, trainers need to be careful about their sales pitches, ensuring that they offer a true value. "Don't insult your clients or waste your time with 10%-off coupons or three sessions for $99," he says. "Use an incentive that's really going to draw the interest of your potential clients and it will also sound like a great deal to your current clients."
Keuilian says that some of his most popular and profitable offers have been things like his "14-Day Fat Burner" deal or a free month of training for any client who brings in a referral that signs up.
"Trainers have to first offer their email list valuable information that establishes the trainer as an authority and someone who really cares about their clients," he adds. "Then they need to limit their sales emails to one out of ten or so emails and make them offers that are true deals, not just a tiny discount or one free session. Offers like that just undo all of the credibility the trainer worked so hard to build."
Keuilian points out that the best thing that can happen with email marketing is for their emails to go viral across the internet and on social media sites.
He adds that value packed emails have the potential to be shared by those on the email list, automatically increasing the trainer's reach many times over without he or she doing anything extra. "What makes that even more potentially incredible is that when your email is shared with a client's friend, it becomes an automatic recommendation of your services. But they'll only share your emails if your information is truly helpful and your offers are truly enticing. That's when your business really takes off."
About Keuilian Inc.
Keuilian Inc. (est. 2007) was founded by fitness marketing and business consultant Bedros Keuilian, who has been named the "hidden genius" behind several of the biggest names in the fitness industry. In addition, he is also the founder of the popular fitness marketing blog, PTPower.com, and founder and CEO of the indoor fitness boot camp franchise, Fit Body Boot Camp.
To find out more about Bedros Keuilian and his fitness boot camp franchise, please visit http://www.ptpower.com/ and http://www.myfitbodybootcamp.com/.