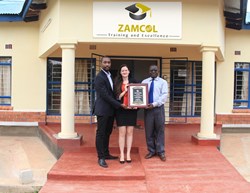 Emarketingrx has successfully worked in five different countries, implementing E-learning platforms for 18 Universities
Tampa, FL (PRWEB) January 14, 2014
Emarketingrx of Tampa, Florida just returned from Zambia after training lecturers at the Zambian College of Open Learning, giving the college the distinction of becoming the first college in Solwezi, North Western Province if not in the entire country to offer a 100% online program.
Province Minister Nathaniel Mubukwanu attended a closing ceremony at the end of the e-learning training workshop for ZAMCOL lecturers. He commended the college for bringing e-learning to the area and said that the government values institutions that strive to provide a quality education to all students through creative platforms.
Emarketingrx has been contracted by the college to develop an e-learning platform. Three officers from the firm have already been to Solwezi for the ZAMCOL training workshop to facilitate the training.
The e-learning coursework is in the developing stages and ZAMCOL will look to Emarketingrx to strengthen the program so that students from all over can take advantage of online educational courses.Emarketingrx will be crucial as ZAMCOL works to create a solid e-learning program that can be attended by students throughout the country. Emarketingrx has successfully worked in five different countries, implementing e-learning platforms for 18 Universities and over 98,000 students. Further, the agency will remain in place until the system is fully implemented, functioning, and fully capable of being managed by the college.
Many of supporters of e-learning praise the fact that e-learning allows students to work at their own pace which is sometimes crucial for full time employees. With e-learning in place, a quality education will be available to a wider variety of students and allow more people to earn a higher level of education where they may not be able to otherwise.