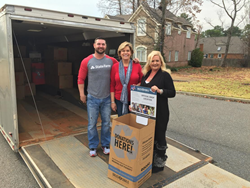 We are honored to partner with Soles4Souls and are grateful that our clients, such as Brandon and Kacky, are making major impacts on the lives of the impoverished.
Nashville, TN (PRWEB) December 16, 2015
Brandon, Angie and Capree began their journey in Mobile on Tuesday, December 8, and stopped in Memphis on December 10 to pick up more shoes from Kacky Kortenber, a fellow State Farm agent. They eventually delivered approximately 3,500 pairs of shoes to Soles4Souls on Friday, December 11, in Nashville.
"Our businesses are proudly joining the fight against poverty by giving their communities a place to donate new or gently worn shoes to Soles4Souls," said Jeffrey Rosenthal, Chairman and CEO of the NALA. "We are honored to partner with Soles4Souls and are grateful that our clients, such as Brandon and Kacky, are making major impacts on the lives of the impoverished."
Brandon's office collected more than 2,000 pairs of shoes during his recent drive for Soles4Souls. He later met up with Kacky in Memphis for a donation pick up of more than 1,500 shoes to deliver them in person to Soles4Souls – just in time for the holidays.
"The NALA's clients have made a huge difference to Soles4Souls and thousands of people around the globe. Business leaders like Brandon, Kacky and Capree show how one company can use their businesses to benefit both local communities and in places all around the world. We appreciate all that they're doing to help "wear out poverty," said Soles4Souls President and CEO, Buddy Teaster.
"As business owners, we are looking to make a difference, not just in our own communities, but around the world," said Brandon. Added Kacky, "Each day around the globe, children are prevented from attending school and adults are unable to work as walking becomes unbearable due to a lack of shoes, but a donated pair of shoes can go a long way in helping them have a better tomorrow."
Please join the NALA's businesses in their effort to support Soles4Souls. To learn more about the NALA's services or about how you can help, please call (805) 650-6121.
For more information about getting involved with Soles4Souls or becoming an official drop-off location, visit https://soles4souls.org/get-involved/.
About Soles4Souls:
Soles4Souls is a not for profit global social enterprise committed to fighting poverty through the collection and distribution of shoes and clothing. The organization advances its anti-poverty mission by collecting new and used shoes and clothes from individuals, schools, faith- based institutions, civic organizations and corporate partners, then distributing those shoes and clothes both via direct donations to people in need and by provisioning qualified micro-enterprise programs designed to create jobs in poor and disadvantaged communities. Based in Nashville, Tennessee, Soles4Souls is committed to the highest standards of operating and governance. Visit soles4souls.org for more information.
About the NALA™
The NALA, a small business association, is for local business owners offering new online advertising & marketing tools, great business benefits, education and money-saving programs, as well as a charity program. The NALA has created a strong emphasis on partnering with charities by giving its members the ability to participate in nonprofit drives all year.