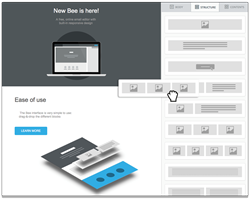 The BEE Plugin is a JavaScript web widget that allows software developers to embed the new version of the BEE email editor into their own software application.
San Francisco, CA (PRWEB) May 15, 2015
MailUp, creators of the popular email design tool beefree.io, announces a new version of the BEE email editor and introduces the BEE Plugin, the embeddable version of the BEE email editor.
A New Version of the Best Email Editor (BEE)
With more than 30,000 active users per month, the free version of the MailUp BEE email editor – available at https://beefree.io/ - has become one of the most popular email design tools since its launch in October 2014. The editor allows email marketers to design stunning, fully responsive, mobile-ready email messages without the need of any HTML or CSS coding knowledge.
Continuing on its mission to create one of the best email editors around (that's what "BEE" stands for), MailUp took user feedback from BEE users and worked on a new version. The result is BEE v2, rewritten from the ground up for better performance and to allow a more flexible email message structure.
The new version introduces an array of new features for advanced email design and customization, including:

Control at the row level
Control at the column level
Granular control on padding
Granular control on borders
Message-level settings that are inherited by all other content items
More control on social media icons
Visit https://beefree.io/ to try the new version of the BEE email editor and see how easy it is to design beautiful, mobile-ready emails.
BEE Plugin: Embed A State-of-the-Art Email Editor Into Your Software Application
Due to high demand from software developers and software vendors, the BEE email editor will now also be available as an embeddable plugin. The BEE Plugin is a JavaScript web widget that allows software developers to embed the BEE email editor into their own software applications.
Thanks to the availability of the BEE Plugin, any CRM, CMS, Ecommerce, or other software application that sends emails can now offer its users a tool to design great-looking responsive messages, without the need to invest into the development of such a feature.
The BEE Plugin will be priced on a per-user basis, with a freemium tier and monthly fees starting at around $1 per user, with discounts for large volumes. Please contact us for additional pricing details.
The BEE Plugin is currently in BETA. To request your developer credentials please sign up to the waiting list at: https://mailup.typeform.com/to/cPa4y3
For technical information on the BEE Plugin, please visit: https://BEE-free.zendesk.com/hc/en-us
About MailUp
MailUp is the creator and provider of beefree.io. MailUp is a leading email service provider (ESP) in Europe and it is the most widely used email marketing and SMS platform in Italy with over 7,000 customers and 10,000 users worldwide. In business for more than 10 years, MailUp is listed on the AIM Italia stock exchange and is headquartered in Milan, Italy with additional offices in Cremona, Italy and San Francisco, CA in the US.
The MailUp email and SMS delivery platform combines powerful email marketing tools with SMTP relay for transactional emails and plugins for ecommerce, CRM, and CMS systems. MailUp's pay per speed pricing is ideal for mid-size companies that are looking to scale their email marketing efforts.
For more information visit: http://www.mailup.com/