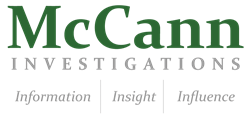 Our process of information gathering is extremely important as it serves to set us up for success as we progress in our cases
San Antonio, TX (PRWEB) April 12, 2014
McCann Investigations, a firm based in Texas that operates throughout the state providing its signature private investigation and digital security services, announced that its San Antonio branch uses a variety of high-tech methods to conduct detailed background checks in embezzlement cases.
Embezzlement is a complicated form of fraud in its nature. It involves the conversion of assets for personal gain by a person (often within a business) entrusted with control over those assets. Before McCann's investigators set up any surveillance plans, they carefully investigate the background of the target to learn as much about him or her as possible before proceeding on to the later stages of investigation.
"Our process of information gathering is extremely important, as it serves to set us up for success as we progress in our cases," said Daniel Weiss, Managing Partner at McCann Investigations. "In many cases, we are able to uncover a side of the target of which the employer or victim was completely unaware."
In embezzlement cases, McCann's San Antonio investigators start by finding the nature of the problem and interviewing the client to learn more about the issue and the investigation target. This helps the investigator to build a picture of the investigation target.
Next, the investigators begin to review a variety of other information, including criminal records, employment history, assets, civil issues and more. To uncover further evidence, the investigators will make use of cutting-edge technologies to extract evidence from digital devices.
"These are highly skilled professionals that have undergone a great deal of training in their practice area," said Weiss. "We are completely committed to providing outstanding service to all of our clients and mitigating the damage done by embezzlement."
For more information about the services provided by McCann Investigations in the San Antonio area, visit the company's website at http://www.mccanninvestigations.com and follow the company on Twitter at @mccangi.
About McCann Investigations
McCann Investigations is a Texas-based private investigations practice focused on comprehensive investigations incorporating digital forensics, surveillance, undercover work and background checks for clients in various case types. Service areas include intellectual property theft, non-compete enforcement, fraud, embezzlement and family law. McCann Investigators are experts in the latest computer forensics tools and are licensed with the state of Texas. McCann examiners have provided expert testimony and reporting in hundreds of cases across the state.