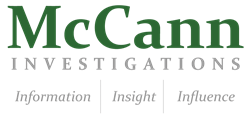 Embezzlement requires the services of skilled experienced investigators if you hope to uncover clear-cut evidence.
San Antonio, TX (PRWEB) November 20, 2013
McCann Investigations, a private investigations and digital security firm operating in Texas, recently announced that it now offers its embezzlement investigation services to clients in the San Antonio region.
The definition of embezzlement is the process of withholding assets with a clear intent by the perpetrator to convert those assets into usable cash. The perpetrator could be an individual person or a group of people entrusted with safeguarding those assets. Embezzlement usually occurs over a longer period of time with the intent of stealing large amounts of money. Uncovering evidence of this crime is often extremely complex.
"Embezzlement requires the services of skilled, experienced investigators if you hope to uncover clear-cut evidence," said Daniel Weiss, Managing Partner at McCann Investigations. "The investigators we employ at our San Antonio offices have years of experience in a wide variety of tactics to help uncover the evidence that you need."
During embezzlement investigations, methods used may include traditional surveillance, computer analysis and analysis of other devices such as smart phones, mobile devices, networks and more.
Embezzlement cases often lead to court appearances for both perpetrators and accusers. When this happens, the San Antonio digital security experts from McCann guarantee that all evidence they collect is done by the appropriate guidelines so that it can be used as courtroom evidence.
"We are pleased to offer these important services to our clients in San Antonio," said Weiss. "We are dedicated to helping our clients keep their personal information and their finances safe at all times."
For more information about the services provided by McCann Investigations in the San Antonio area, visit the company's website at http://www.mccanninvestigations.com and follow the company on Twitter at @mccangi.
About McCann Investigations
McCann Investigations is a Texas-based private investigations practice focused on comprehensive investigations incorporating digital forensics, surveillance, undercover work and background checks for clients in various case types. Service areas include intellectual property theft, non-compete enforcement, fraud, embezzlement and family law. McCann Investigators are experts in the latest computer forensics tools and are licensed with the state of Texas. McCann examiners have provided expert testimony and reporting in hundreds of cases across the state.