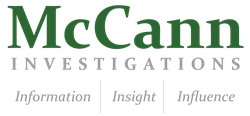 It's important that our investigators have access to every tool they need to be successful in an embezzlement investigation
San Antonio, TX (PRWEB) April 04, 2014
McCann Investigations, a firm based in Texas that specializes in a range of private investigation and digital security services throughout the state, announced that it has access to today's most cutting-edge technologies when working on embezzlement investigations.
Embezzlement is a type of fraud crime in which a person in control of assets converts those assets for his or her own purposes over the course of time. These are complicated cases that require the in-depth analysis of a professional, and McCann's San Antonio investigators leverage these high-tech tools as they take on these cases and seek a swift resolution for their clients.
"It's important that our investigators have access to every tool they need to be successful in an embezzlement investigation," said Daniel Weiss, Managing Partner at McCann Investigations. "This commitment to technology has translated to a lot of success in our work here in San Antonio."
McCann takes two different approaches to embezzlement investigations, the first of which is standard surveillance. Investigators use covert surveillance and remote viewing technologies to track every step of the investigation target in hopes of uncovering suspicious behavior as it occurs.
The second approach in these investigations is digital forensics analysis. Certain tools enable investigators to comb through computers and mobile devices to find important pieces of evidence that could be critical in solving the case. Common sources of evidence include texts, emails, photos, notes and more. McCann's San Antonio investigators undergo rigorous training programs to ensure they are well-versed in the various methods of evidence extraction in digital devices.
"Our investigators are true professionals that are dedicated to providing the highest level of service possible," said Weiss. "Work with us today to put a stop to embezzlement in your business."
For more information about the services provided by McCann Investigations in the San Antonio area, visit the company's website at http://www.mccanninvestigations.com and follow the company on Twitter at @mccangi.
About McCann Investigations
McCann Investigations is a Texas-based private investigations practice focused on comprehensive investigations incorporating digital forensics, surveillance, undercover work and background checks for clients in various case types. Service areas include intellectual property theft, non-compete enforcement, fraud, embezzlement and family law. McCann Investigators are experts in the latest computer forensics tools and are licensed with the state of Texas. McCann examiners have provided expert testimony and reporting in hundreds of cases across the state.