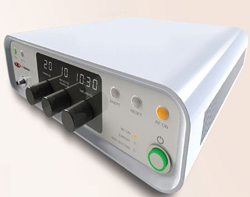 Further implementation of this technology will allow for fundamentally safer procedures and paves the way for new and more effective treatments that otherwise would not be possible.
(PRWEB UK) 15 January 2015
Emblation Limited, a global leader in medical microwave technology, has announced that the U.S. Patent and Trademark Office has recently granted a Notice of Allowance for U.S. Patent Application No. 13/509,835, with claims that cover methods for improving the accuracy of power measurements in medical and industrial microwave applications.
Gary Beale, Emblation CEO, stated, "this Notice of Allowance represents a validation of the novelty in our approach and makes a significant step forward in the safety of microwave ablation devices. Emblation is proud to be at the forefront of what is a rapidly growing field of medicine, and the further implementation of this technology, included as standard in Emblation's ISYS245, MSYS245 and ISYSconnect microwave generators, will allow for fundamentally safer procedures and paves the way for new and more effective treatments that otherwise would not be possible."
One of the challenges facing product designers in the field of microwave ablation is how to accommodate the measurement of varying impedance and phase when using standard components that are generally calibrated for typical industrial applications, where the impedance match is fixed.
In medical microwave systems the measurement of forward and reflected power is often used as a safety mechanism to monitor treatments, detect and react to device failures, connection issues and potential misuse. Any inaccuracy in these measurements has the potential to result in either insufficient power being delivered - resulting in poor treatments and a perception of unreliability, or excessive power being administered – potentially causing serious patient injury.
This new patent covers a method of measurement that operates independent of load conditions – thereby ensuring a stable and regulated output power and a true measurement of forward and reflected power.
About Emblation Microwave - http://www.emblationmicrowave.com
Emblation is a global leader in microwave technology with a strong focus on medical devices. Established in the USA in 2007, the company relocated to Scotland the following year to continue research into novel microwave based medical products.
Emblation Microwave has since manufactured and launched a range of innovative microwave systems for a number of global organizations, meeting the fundamental need for compact, lightweight and portable generators for medical applications. Emblation's unique medical microwave generator is built with a number of specific features and is used in some of the safest and most advanced microwave ablation products available in the global market today.
The team is led by some of the world's foremost medical microwave experts, with a wealth of experience in the design, development and manufacture of microwave applications for a range of medical fields. Emblation is certified to EN ISO13485 and ISO90001 standards, and is committed to providing next generation solutions for today's medical conditions.
For further information please contact Jonathan Williamson: jonathan.williamson (at) emblation (dot) com or visit http://www.emblation.com