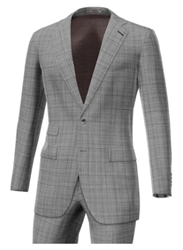 We think capabilities such as these will increasingly become standard in the future.
San Juan, Puerto Rico (PRWEB) December 15, 2016
The challenge: a luxury custom menswear company wanted to instantly display online virtual versions of its suits, blazers, and pants based on countless customization options that shoppers digitally choose.
Knot Standard's solution: Embodee Corp.'s proprietary technology that dynamically renders shoppers' choices in real-time 3D images. The images enable them to view from every angle and in extraordinary detail the garments they've customized—before their final choices are bought and made.
The technology is central to Knot Standard's recently launched Virtual Studio, which the company says is a first for the menswear industry and "combines the best of the old world tailoring process with modern online shopping convenience and personalization." Shoppers can design their personalized clothes using thousands of options, including styles, fabrics, buttons, and more.
"This is the next evolution of menswear," said Knot Standard co-founder Matthew Mueller in a company news release. "Until now, there has been no way for a customer to see what his outfit would look like before making a physical garment. We have been able to create the experience that is the future of menswear in the coming decade."
For Embodee the collaboration marks the company's entry into visualization of menswear, extending Embodee's capabilities beyond customizable athletic apparel and footwear for some of the world's largest, most successful brands.
"We're thrilled to help Knot Standard deliver Virtual Studio to its customers and create a visually compelling and highly individualized shopping experience," said Embodee CEO and founder André Wolper. "We think capabilities such as these will increasingly become standard in the future."
About Embodee
Embodee Corp. was founded in 2008 to develop methods for helping the apparel industry use 3D visualizations in merchandising and selling products online. The company delivers virtual product experiences, enabling businesses to give their customers an immersive visual interaction with their products, enriching the online shopping experience.
About Knot Standard
Founded in 2010 by John Ballay and Matt Mueller, Knot Standard combines a unique high tech approach to old world tailoring. Knot Standard creates a luxury menswear experience like no other; using trusted stylists, fit technology, and classic tailoring. We create a custom look that is as individual as you.
Knot Standard' s mission is to consistently offer premium service, selection combined with tradition and classic tailoring, for our client and his personal stylist to create the lifestyle our customer desires. Visit one of our 7 showrooms across the country or our Online Studio.
As one of the fastest growing companies in the country, Knot Standard's work has been recognized by CNBC, Men's Health, Esquire, GQ, Forbes, CNN, and—most importantly—thousands of clients.