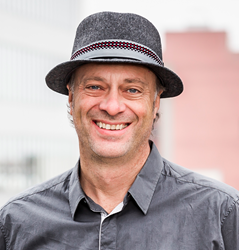 Our clients don't have to worry about every intermediary step of virtualization, of servers, of cloud computing, high-speed rendering, or fabric simulation. We handle all that." -- CEO André Wolper
Portland, OR and Fremont, CA (PRWEB) January 14, 2015
CIOReview magazine has named Embodee Corp. one of 2014's most promising technology solution providers serving the U.S. textile and apparel industry. The magazine features Embodee among 20 companies in a special January edition focusing on the industry,
A panel of CEOs, CIOs, CMOs, venture capitalists, analysts, and the magazine's editorial board selected the top companies from more than 300 firms.
"Embodee has been on our radar for some time, and we are happy to showcase them due to their continued excellence in delivering top-notch technology-driven solutions," said Harvi Sachar, CIOReview's publisher and founder. "Embodee's solutions continue to break new ground benefiting its customers, and we're excited to have them featured on our top companies list."
CIOReview is a technology magazine that showcases enterprise solutions capable of redefining the business goals of enterprises tomorrow. It is a neutral source of information for technology decision makers that constantly endeavors to identify "The Best" in a variety of areas important to tech business.
Embodee's patented software and processes transform physical products into dynamic digital assets that are rendered in high-fidelity 3D views on demand from any desired angle. The applications mainly enable online customization of apparel and footwear and virtual try-on of garments.The company's clients include some of the world's most prominent sports apparel brands.
"Our clients don't have to worry about every intermediary step of virtualization, of servers, of cloud computing, high-speed rendering, or fabric simulation," CEO André Wolper said in an interview with the magazine. "We handle all that."
Embodee's 3D-model replicas are delivered to clients' websites. "A replica has superpowers," Wolper said. "It can assume different versions, different manifestations that a physical sample cannot."
Demos of Embodee's customization and virtual try-on technologies are available here and here.
About Embodee
Embodee Corp. was founded in 2008 in Portland to develop methods for helping the apparel industry use 3D visualizations in merchandising and selling products online. The company has evolved and now delivers virtual product experiences for business, enabling companies to give their customers an immersive visual interaction with their products, enriching the online shopping experience.
About CIOReview
http://www.cioreview.com is a technology magazine that talks about the enterprise solutions that can redefine the business goals of enterprises tomorrow. It is the leading source that shares innovative enterprise solutions developed by established solutions providers, upcoming hot enterprises, and is a neutral source for technology decision makers. Published from Fremont, California, CIOReview is an excellent platform for the enterprise to showcase innovative solutions. While the U.S. enterprise market is growing exponentially, there is a vacuum among entrepreneurs of enterprise startups. CIOReview acts as a platform allowing high-level executives in the enterprises to share their insights, which in turn will help the enterprise startup ecosystem, help technology and business leaders with analysis on information technology trends and give a better understanding of the role that enterprise solutions play in achieving the business goals.