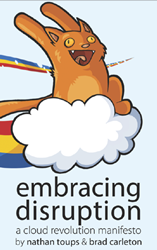 This manifesto explores an exciting world propelled by disruptive innovation like food trailers swiping credit cards on their smart phones, Arab revolutionaries toppling dictators with Twitter, and entrepreneurs running their entire business on an iPad.
Austin, TX (PRWEB) October 31, 2013
Two tech entrepreneurs team up to write a manifesto about the cloud computing revolution that brings Average Joe and Jane up to speed. Nathan Toups of rojoroboto and Brad Carleton of Tech Pines co-wrote Embracing Disruption: A Cloud Revolution Manifesto to connect the gap between those in the know and those still scratching their heads. It's purposefully brief, well-illustrated and written without any unexplained tech jargon. Each chapter breaks down issues such as the Libyan uprising, the Amazon Web Services (AWS) crash, the 2012 presidential campaign and internet freedom to explain how cloud technology is used and how the common world is benefiting from it.
According to a survey by Wakefield Research, commissioned by cloud-technology firm Citrix, showed that many people in the US not only don't know what the cloud is but think it's something to do with "pillows, drugs, heaven, outer space and toilet paper." This is alarming because out of 1,000 people surveyed, 97 percent are actually "using cloud services today via online shopping, banking, social networking and file sharing."
Embracing Disruption entertains readers with fun chapters like "Congrats on Your Cloud Baby," "Making Losers Cool Since '93" and "Obama's Cloud Beat Romney's Servers." Toups' and Carleton's tongue-in-cheek writing style, peppered with humor, separate this manifesto from the archetypal scholarly or industry-specific technology reads. In fact, surveyed readers with little prior knowledge of technology reported that they were able to follow and understand without consulting any other resource.
"Covering technological, governmental and philosophical issues of changing technology, this book is a great introduction to, and launch pad for, thoughts about how the internet, web services and ubiquitous communication has changed our lives, both positively and negatively," says one reader, Zack Williams. "I'd recommend it to both technologists who want to broaden their horizons and normal people who want both retrospective and prospective views of our changing digital lives."
Production of the book was funded through a successful crowdfunding campaign on Kickstarter. In order to keep the fan base engaged, Toups has begun producing a podcast called Disruptor to expand on ideas related to disruptive technology, the cloud and internet freedom. Other industry influencers are frequently guests on the podcast.
"Our goal was to write an easy to understand book about the cloud that covered the philosophy that underlies it. We wrote this book so that it would be accessible to everyone," explains Toups. "Brad and I wrote this manifesto to explore an exciting world propelled by disruptive innovation like food trailers swiping credit cards on their smart phones, Arab revolutionaries toppling dictators with Twitter and Facebook, and entrepreneurs running their entire businesses from an iPad."
Toups and Carleton believe in open access to information, so they have made the book freely available online. You can download a complete copy of the manifesto in ePub or PDF format at http://www.embracingdisruption.com. If you choose to support the project, you are encouraged to purchase a copy of the manifesto from Amazon. Available in print ($11.04) and Kindle ($6.99) formats. Fifty percent of the profits from the book go to internet-focused nonprofits like Fight for the Future and the Electronic Frontier Foundation.
To learn more about Embracing Disruption visit http://www.embracingdisruption.com, listen to the podcast on http://www.soundcloud.com/embracingdisruption or subscribe to the newsletter at http://www.tinyletter.com/embracingdisruption.
About The Authors
Nathan Toups | author | @rojoroboto
Nathan is a professional geek with a background in collaborative design. He honed his professional technology skills after college and now owns and operates rojoroboto, a boutique technology-consulting firm in Austin, TX. Nathan is an expert in mobile device and cloud integration in the workplace, specifically with Mac OS X, iOS and the cloud. He has spoken at SXSW and MacTech Conference and he writes for technical journals such as MacTech magazine.
Brad Carleton | author | @techpines
Brad started Tech Pines, a javascript and cloud consulting company in 2010, pioneering in javascript development both on the browser and on the server. Prior to starting his company, Brad worked in the hustle and bustle of the Austin tech industry. As an entrepreneur with a passion for development and the open source community, he participates in projects like CTX Givecamp to help non-profits with improvements to existing web technologies.