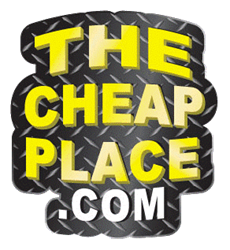 For 6 Years we can confidently say we almost always exceed our customers expectations.
South Daytona, Florida (PRWEB) October 30, 2015
A biker patch symbolizes everything about the man or woman who wears it. Every patch has a story behind it. Bikers wear patches to symbolize honor and loyalty. Veterans wear patches to symbolize strength and courage. Others wear them to simply showcase what they're all about.
Many biker patches, however, have secret meanings that only other members will understand. Veteran patches are shown proudly to convey all the hard work they've endured. The Cheap Place is the leader in the wholesale patch industry for iron on patches and embroidered patches.
The Cheap Place has been supplying wholesale patches to vendors since 2009. They wholesale and retail Ivamis Trading brand patches to Bikers, Veterans, and people that like to have fun.
They have beautiful embroidered Irish pride patches, biker patches, veteran patches, funny patches, and many other patches to add to your vest or jacket. Their specialty is in Biker Patches, large or small, from skulls to eagles to insignias.
We stock patches for fire fighters, law enforcement, motorcycle clubs, biking enthusiasts, lady biker patches, and much more. Whether wearing patches to commemorate a fallen brother or sister, or wear them to remember certain events.
The Cheap Place is not limited to just biker patches though. They carry a wide variety of military patches for all who served Navy Veteran patches, Army patches, Air Force patches, Marines patches, and many more.
Be proud to be a veteran, or show support to our veterans by wearing some of our military patches. Show love for all who gave some, and honor some that gave all.
They are a family operated online store and appreciate your support. Thank you for telling your friends about TheCheapPlace.com